Sous Vide Cookbook: The Best Suvee Cooking Recipes For Your Machine. (Sous Vide Cookbook For Beginners) (Paperback)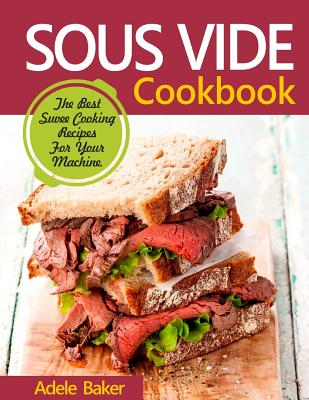 for information about purchasing this book, please contact orders@bookpassage.com
Description
---
Get the essential Sous Vide Cookbook and impress your family with fabulous meals
Sous Vide technology allows cooking almost all types of your favorite dishes.
You will be astonished at how easy it is to cook your favorite dishes with Sous Vide method.
This Sous Vide Guide is filled with easy and delicious recipes.
The first thing you need to know: sous vide technology allows achieving restaurant-quality meals in the comfort of your own kitchen.
The second one: with this cookbook, you will cook better, tastier and faster meals for yourself and your family.
For your satisfaction, this Sous Vide Cookbook offers:
55+ meals that are big on flavor, imaginative in their variety, and easy to make, featuring lots of fresh, natural, and nutritious ingredients
Cooking under Pressure A-Z guide, with handy tips, which'll help you utilize your Sous Vide Precision Cooker like a PRO
Tasty options for all kinds of meat lovers - beef, poultry, fish & seafood
Please note Two options of the Paperback are available:
Full-color edition
Black and white edition
Simply press "See all formats and editions" above the price.
As a GIFT, at the end of the book, I'll give you a BONUS
TOP recipes for any occasion from the best-seller author Adele Baker
Master the Sous Vide and Impress Your Guests, Family and Friends with these simple and delicious Sous Vide recipes