Learn to Lucid Dream: Powerful Techniques for Awakening Creativity and Consciousness (MP3 CD)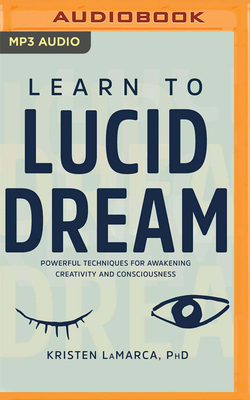 $19.99
Email or call for price
Description
---
Follow your dreams and discover your inner self - a beginner's guide.
You're the stuff dreams are made of - or rather, your subconscious is. Learn to Lucid Dream teaches you how to deliberately explore and manipulate your dreams (called "lucid dreaming") to gain insight into your inner self. You might even learn to conquer your nightmares - or just enjoy the dreamy freedom of flying.
This methodical introduction teaches you both the science and spirituality of dreaming. You'll practice developing dream awareness and apply the discoveries you make while sleeping towards improving your waking hours. Lucid dreaming can help you heighten your focus, prioritize your core values, and be more observant.
This guide to lucid dreaming includes:
Step-by-step plan - Follow each chapter's research-based lessons and techniques to develop and hone your lucid dreaming skills.
Personal accounts - Hear the author's firsthand anecdotes of lucid dreaming - and the positive effects their lessons have had on her life.
Dream sequence - Solidify your new skills in a 24-hour lucid dreaming practice sequence, including exercises for morning, daytime, bedtime, and nighttime.
Learning the extraordinary art of lucid dreaming is easier than you think with the techniques in Learn to Lucid Dream.