Masterpixels: Incredible Sea Life (Paperback)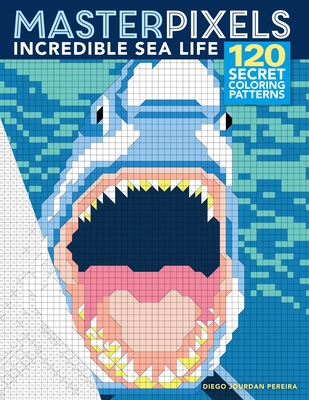 $12.95

Usually Ships in 1-5 Days
Description
---
Take a break and escape from the world with 120 color-by-pixel projects.
At first, readers have no clue what each completed picture might be. But follow the number guide, apply color, and watch each image emerge A palette shows which color goes with which number, telling readers what colored pencils or markers they need. Answer keys are included in the back of the book.
About the Author
---
Diego Jourdan Pereira is an artist, puzzle designer, and writer with a background in illustration, comic books, and graphic design. He's worked on licensed properties such as Teenage Mutant Ninja Turtles, Transformers, Donald Duck, Grumpy Cat, LEGO, Mars Attacks!, Regular Show, Sesame Street, Star Wars, Toy Story, and WWE for an international clientele including DC Comics, DC Thomson Media, Dover, IDW Publishing, Skyhorse, and Topps Company. He's worked for Simon & Schuster, Nickelodeon, Mirage Studios, Titan Magazines, Worthwhile Books, and MAD Magazine, among others. He lives in Santiago, Chile. He studied design at Universidad del Pacifico in Chile, as well as at the Fashion Institute of Technology in NY.