Just Beyond OGN Gift Set : (Books 1-4) (Paperback)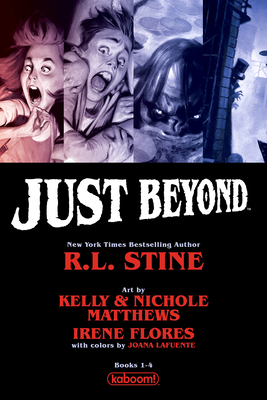 $39.99

Usually Ships in 1-5 Days
Description
---
The complete gift set of R.L Stine's first graphic novel series and the inspiration behind the Disney+ series, perfect for fans of Goosebumps!



Best-selling author R.L. Stine (Goosebumps, Fear Street) partners with artists Kelly & Nichole Matthews (Pandora's Legacy) and Irene Flores (Labyrinth Coronation) to bring his signature spooky scares to graphic novels and an all-new generation!

What lies just beyond the world you think you know? What hides in the shadows… and beyond? Jess, Josh, and Marco are whisked away to a terrifying world beyond the boiler room at the school; Parker, Annie, and the Walden family embark on a nightmarish camping trip; siblings Karla and Benny accompanying their Uncle Bill to the remote island of Mala Suerte, where something deadly lives in the river swamp; and Ruthie and Ezra Dillon's dad and uncle just bought an old Hollywood movie studio where the monsters seen a little too real…

This special graphic novel gift set collects Just Beyond: The Scare School, Just Beyond: The Horror At Happy Landings, and Just Beyond: Welcome to Beast Island, and Just Beyond: Monstrosity, the inspiration behind the Disney+ series, in a single complete set for the first time!