All My Friends Are Ghosts (Paperback)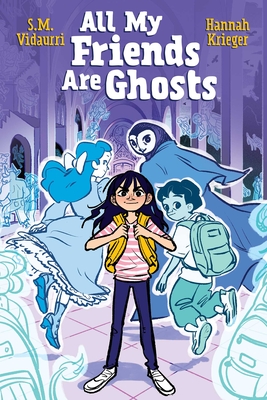 $14.99

Usually Ships in 1-5 Days
Description
---
Effie is lost and only feels like a ghost – till she discovers an actual ghost school in the nearby woods and begins an unforgettable journey of self-discovery.

...the rich illustrations, diverse cast, and small twists on middle school angst establish a world that seems to demand another chapter. - Publishers Weekly

Effie is lost, and feels like a ghost. She skips school because she doesn't think anyone will notice, and doesn't feel like she belongs, or that school offers her anything that she wants. Simply, she has stopped trying. One day, when she realizes no one will notice, she escapes from her every day life… and discovers a ghost school in the nearby woods. But just as she's beginning to learn all about the amazing things that ghosts can do – like possession, poltergeist-ing, demon magic and more – Effie is asked by her new friends to help track down a mysterious spirit that's been spotted. But if Effie's going to succeed, she'll not only have to show her friends that she's got something special,but also learn to believe she's got it too.

Award winning writer S.M. Vidaurri (Iron, Steven Universe) and artist Hannah Krieger (Psychic Mansion) present a new original graphic novel about discovering what makes you special and helping others be seen for who they are.
About the Author
---
S.M. Vidaurri was born and raised in northern New Jersey. He lives and works in New York. He received a BFA in Illustration from the University of the Arts in Philadelphia. His apartment is filled with many animals. He likes romance novels and superhero movies. His first graphic novel Iron: Or The War After was published in 2012 and was nominated for the Graphic Album category in the Pépites 2013 Salon de Montreuil. His work was also featured in Locust Moon's Little Nemo: Dream Another Dream which won for Best Anthology in the 2015 Eisner Awards.
Praise For…
---
"...the rich illustrations, diverse cast, and small twists on middle school angst establish a world that seems to demand another chapter."
— Publishers Weekly

"All My Friends Are Ghosts by S.M. Vidaurri and Hannah Krieger is an excellent read for anyone who's ever felt like an outsider."
— Comic Book Resources

"Writer S.M. Vidaurri squeezes a lot of world-building into such a short story, but artist Hannah Krieger certainly helps sell it all, creating a variety of interesting-looking ghosts, some of whom take wildly different forms than one generally expects a ghost to take..."
— School Library Journal