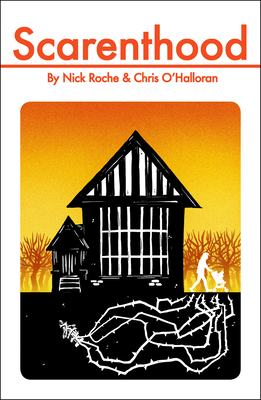 Description
---
What's scarier: fighting demons or letting your kids down? That's what a group of parents will find out as their plans to solve the school's longstanding mystery lead to one parenting nightmare after another!

TO-DO LIST: Drop kids at preschool; Grab coffee with other parents; Go ghost-hunting in woods; Fight demonic entity; Collect kids; Naptime.

With the kids away on a field trip, a group of parents disturbs an ancient evil buried beneath the old Church Hall, unearthing a decades-old mystery about a missing child, and inviting something... hungry into their lives. Suddenly, their mornings go from playdates and peanut allergies, to a battle for the souls of one broken family--and one child in particular, in this original story that combines the highs of parenthood with horror movie scares.
About the Author
---
Nick Roche is an artist originally from County Wexford and currently based in Dublin. He has written and drawn Transformers and drawn Doctor Who comics for IDW Publishing. He is a member of the Eclectic Micks sketchblog. He won the 2011 Irish Comic News award for Best Mainstream-Published Artist. Scarenthood is his first graphic novel that he has both written and drawn.
Praise For…
---
"A terrifying delight, and a must-read." —Monkeys Fighting Robots

"Scarenthood delivers some good old-fashioned horror comic with a perfect new school twist." —Comics Bookcase

"Scarenthood works on several levels, but what makes it really stand out is how real the scares are. It hits on genuine fears that every parent has had and then adds a supernatural mystery to the mix to turn it right up to eleven." —Horror DNA

"A truly unique book perfect for horror fans but equally engaging for those who are new to the genre, with a refreshing Irish spin that energizes the cast with remarkable humanity." —Weird Science

"One of the best new spooky comics of 2020." —SyFy

"Brutally funny horror that finds genuine terror and honest messy humour in parenthood. I loved this." —Kieron Gillen (The Wicked & The Divine; Die)
 
"A wonderful comic with a great premise that is funny and creepy. The Irish comics scene is more fucked-up than we realized." —Gerry Duggan (Dead Eyes; Marauders; Deadpool)
 
"A true original. An uncanny mix of folklore horror, modern anxiety and black humour. It tickles a funnybone but by book's end, may leave another body part broken." —Declan Shalvey (Bog Bodies; Savagetown; Moon Knight)
 
"A blood-curdling blast of magical realism, perfect for parents and demonic entities in this world and the next." —Eoin Colfer (Artemis Fowl; High Fire; Illegal)
 
"One of my favorite first issues ever. So full of fun, great characters and beautiful art. You will love it." —Brian Lynch (Secret Life Of Pets; Monster Motors)
 
"Nick brought us robots and sadness with his Transformers work, now he brings us Rentaghost for a new generation with roughly the same amount of skill." —John Allison (Giant Days; Steeple)