The Fever in Urbicande (Obscure Cities #1) (Paperback)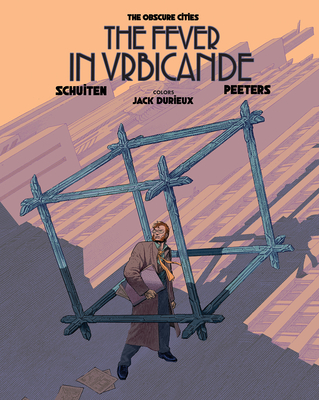 $19.99

Usually Ships in 1-5 Days
Description
---
Visit a land full of mystery, ancient alchemy, and modern technologies in this award-winning graphic novel series, now in a new edition with all-new colors and an updated translation!

The second book in the original The Obscure Cities series, The Fever in Urbicande was first published in English by NBM in 1990 in black-and-white. This updated edition features an all-new translation and beautiful new coloring supervised by Francois Schuiten and Benoit Peeters.

Eugen Robick, Urbatect of Urbicande has been designing a new bridge to connect the southern portion of the city to the north, but his bid to commence construction has been denied by the Commission. Unconcerned with the politics of the situation, Eugen only cares about the balance it will bring to the city.

While contemplating how he can convince the Commission to see things his way, Eugen is brought a cube made of beams discovered during construction of another project. Initially small enough to fit on his desk, it begins to grow, adding beam after beam, until it soon takes over his entire office. Growing exponentially, it eventually takes over the entire city, disrupting the social order as citizens begin using the beams to travel back and forth between the southern and northern parts of the city, previously only accessible via the guarded bridges. While the Commission wishes to put a stop to any such social change, the cube's impact is overpowering and irreversible.
About the Author
---
Benoît Peeters was born in Paris on August 28, 1956. After publishing two novels early in his career, he experimented with diverse genres: essay, biography, illustrated story, photo novel, film, television, radio theater, and, of course, comics. An Hergé specialist, he has written three books to date on the subject: The World of Hergé; Hergé; Son of Tintin; and Read Tintin. He is also the author of several books on comics, storyboards, and biographical studies on Hitchcock, Nadar, Jacques Derrida, and Paul Valéry

François Schuiten was born in Brussels on April 26, 1956, into a family of architects. Since 1980, he has worked with Benoît Peeters on The Obscure Cities series. His graphic novels have been translated into a dozen languages and have received numerous international awards. He has also created many illustrations, posters, and postage stamps across Europe. In 2002, he received the prestigious lifetime achievement award from the Angouleme International Comics Festival. He published his first solo effort, The Beauty, in 2012, and designed a train museum, Train World, which opened in Brussels in 2015. His 2014 exhibition and accompanying book, Revoir Paris, has met with international praise.