Li'l Abner: The Complete Dailies and Color Sundays, Vol. 9: 1951-1952 (Hardcover)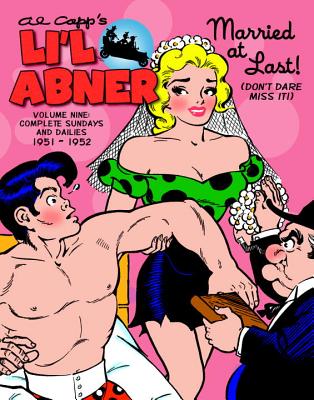 $49.99
Email or call for price
Description
---
To millions of daily readers spanning five decades, Al Capp was the man whose biting satire made them laugh as he injected "Lower Slobbovia," "the double whammy," and "Sadie Hawkins Day" into our popular lexicon. To Nobel-laureate John Steinbeck, he was "very possibly the best writer in the world today." This series is the first-ever comprehensive reprinting of the comic strip—including both dailies and meticulously-restored full-color Sundays.

At long last Li'l Abner and Daisy Mae get married in a story so big it earned the cover of Life magazine! But the course of true love never runs smoothly, especially when the newlyweds adopt Li'l Orphan Hammy. Plus, Fearless Fosdick must save the world from The Atom Bum (goodbye, world!); Daisy Mae and Moonbeam McSwine are taken captive by Sahara Sam, the Friendly Slave Dealer; and Abner falls victim to Nightmare Alice's voodoo powers. All in the complete daily and color Sunday comic strips from 1951 and '52!
About the Author
---
Al Capp (1909–1979) was born Alfred Gerald Caplin in New Haven, Connecticut. He created Li'l Abner in 1934. In addition to the enormous popularity of his comic strip, Capp was arguably the most famous cartoonist of his generation. He was a frequent and outspoken guest on 1940s and '50s television. The prolific satirist also wrote a syndicated newspaper column, had his own syndicated radio show, and was a frequent guest lecturer at campuses nationwide, a sideline that created a firestorm late in his career. Capp retired Li'l Abner in 1977 after a 43-year run, and died two years later.