The Growth Mindset Workbook: CBT Skills to Help You Build Resilience, Increase Confidence, and Thrive Through Life's Challenges (Paperback)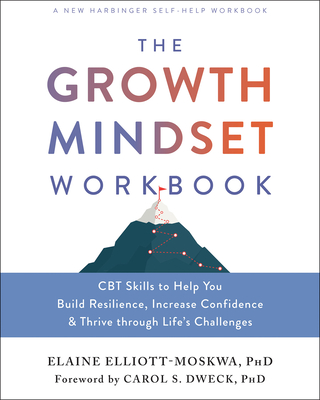 $24.95

Usually Ships in 1-5 Days
Description
---
It's time to ditch the self-limiting beliefs that hold you back from reaching your full potential
Do you ever feel like you're just not good enough, smart enough, or talented enough in certain areas? Do these beliefs keep you from seeking out new opportunities or challenges, because you're afraid of failing? If so, you may be suffering from a "fixed mindset." In contrast, a "growth mindset" is the belief that you can increase your ability or develop your attributes--that you can adapt and learn from your mistakes. But how do you cultivate a growth mindset?
The Growth Mindset Workbook offers essential skills grounded in cognitive behavioral therapy (CBT) to change the way you think about your own talents and abilities. Based on the core principles outlined in Mindset by Carol Dweck, this workbook will help you shed unhelpful and self-limiting attitudes and beliefs, and replace them with a growth mindset that can increase resiliency, boost self-confidence, and form the foundation of a meaningful, values-based life.
The most important thing to remember is that a growth mindset can be learned, and doing so can positively impact how you think, feel and act. If you're ready to say yes to life's challenges and maximize your potential, this step-by-step guide can show you the way.
About the Author
---
Elaine Elliott-Moskwa, PhD, is a mentee of Carol S. Dweck and Aaron T. Beck, with whom she did postdoctoral work at the Harvard School of Education, and trained in cognitive behavioral therapy (CBT) at the University of Pennsylvania, respectively. She helped to establish the CBT training program at Harvard Medical School/Massachusetts General Hospital. Currently, she is president of the Academy of Cognitive and Behavioral Therapies, and has a private practice in Princeton, NJ. Foreword writer Carol S. Dweck, PhD, is Lewis and Virginia Eaton Professor of Psychology at Stanford University. In addition to receiving awards for her pioneering research on fixed and growth mindsets, Dweck has been elected to the American Academy of Arts and Sciences, and the National Academy of Sciences. Her book, Mindset, has been widely acclaimed and translated into forty languages.