A Happier You: A Seven-Week Program to Transform Negative Thinking Into Positivity and Resilience (Paperback)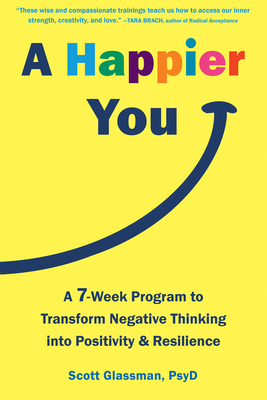 for information about purchasing this book, please contact orders@bookpassage.com
Description
---
Based on author Scott Glassman's A Happier You(R) wellness program, this uplifting guide offers seven skills in seven weeks to supercharge your positivity and short-circuit the cycle of negative thinking.
Are you a 'glass-half-full' or a 'glass-half-empty' type of person? Or is the glass shattered in a million pieces? If you find yourself always focusing on the negative rather than the good things in life, you might be experiencing the 'negativity effect.' It can infect every aspect of your life, and manifest in any number of mental and emotional challenges--including depression, anxiety, burnout, and broken relationships. So, how do tap into your capacity for positivity and start building a better view of the world?
This uplifting guide offers a unique seven-week positive psychology program for developing the habits you need to turn the 'negativity effect' into a 'positivity reflex.' Based on the author's A Happier You(R) wellness program, the tools and techniques in this book can be incorporated into your daily routine to kick-start your positivity engine, boost your resilience in stressful situations, and look at life through a new, more optimistic lens.
If you're ready to look on the bright side, this book will show you how to look inside to find the light of optimism.
About the Author
---
Scott Glassman, PsyD, is a licensed psychologist, and clinical associate professor at the Philadelphia College of Osteopathic Medicine. Glassman's program, A Happier You(R), was featured on National Public Radio (NPR) and CBS News through national syndication. He has appeared on SiriusXM's Doctor Radio to discuss his work on happiness. Additionally, Glassman is a contributing psychology and health writer for The Philadelphia Inquirer and www.philly.com.