Applied Behavior Analysis Research Made Easy: A Handbook for Practitioners Conducting Research Post-Certification (Paperback)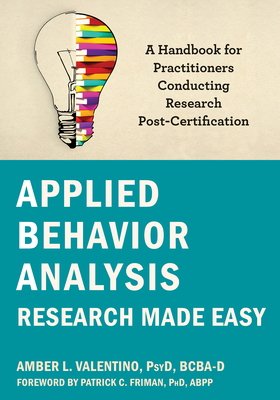 for information about purchasing this book, please contact orders@bookpassage.com
Description
---
Learn how you can make a name for yourself in the field of applied behavior analysis research.
If you're like many practitioners in the field of applied behavior analysis (ABA), you may encounter barriers when conducting research--including limited resources, competing contingencies, an absence of a formal institutional review board, and rigorous methodology requirements. This book addresses these limitations directly, and offers strategies for contributing to research literature, advancing your career, and making professional scholarly submissions over the course of your career.
In this book, you'll find a thorough discussion about the research-to-practice gap, arguments for why ABA practitioners should publish, tips for ensuring ethical research practices, time management skills to help you stay productive, and strategies for overcoming common obstacles in research.
Also included are practical ways to conduct research in applied settings, information about receiving mentorship, tips for writing, a quick reference guide to the editorial process, examples of applied studies, and resources to help you get started right away.
About the Author
---
Amber L. Valentino, PsyD, BCBA-D, currently serves as chief clinical officer at Trumpet Behavioral Health. In this role, she oversees all research and training initiatives, builds clinical standards for the organization, and structures systems for high-quality clinical service delivery. Valentino's clinical and research interests include the assessment and treatment of verbal behavior, primarily in children with autism. She is also interested in evaluation of programming to address unique adaptive skill deficits, professional practice issues such as ethics, and developing standards for effective supervision in the field. Valentino has spent her research career conducting applied studies and publishing in several peer-reviewed behavior analytic journals. She currently serves as an associate editor for Behavior Analysis in Practice, and previously served as an associate editor for The Analysis of Verbal Behavior. She is on the editorial board of the Journal of Applied Behavior Analysis, and serves as a frequent guest reviewer for several behavior analytic journals. Foreword writer Patrick C. Friman, PhD, ABPP, is vice president of behavioral health at Boys Town, and clinical professor in the department of pediatrics at the University of Nebraska School of Medicine. He is a fellow of the Association for Behavior Analysis International, former editor of the Journal of Applied Behavior Analysis, and former president of the Association for Behavior Analysis International.