The Adverse Childhood Experiences Recovery Workbook: Heal the Hidden Wounds from Childhood Affecting Your Adult Mental and Physical Health (Paperback)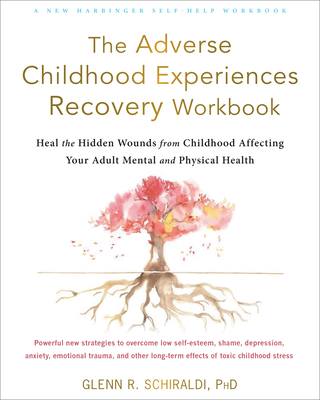 $24.95

Usually Ships in 1-5 Days
Description
---
Practical skills for healing the hidden wounds of childhood trauma
We're all a product of our childhood, and if you're like most people, you have experienced some form of childhood trauma. Adverse childhood experiences (ACEs) are at the root of nearly all mental health disorders, including depression, anxiety, panic disorder, post-traumatic stress disorder (PTSD), and attention-deficit/hyperactivity disorder (ADHD). Memories associated with ACEs imprint on a child's brain, and can manifest themselves mentally and physically throughout adulthood--even decades after the traumatic incident. So, how can you begin healing the deep wounds of ACEs and build strength and resilience?
In this innovative workbook, trauma specialist Glenn Schiraldi presents practical, evidence-based skills to help you heal from ACEs. In addition to dealing with the symptoms, you'll learn to address the root cause of your suffering, change the way your brain responds to stress and the outside world, and soothe troubling memories.
Using the trauma-informed and resilience-building practices in this book, you will:
Understand how toxic childhood stress is affecting your health
Rewire disturbing imprints in your brain using cutting-edge skills
Learn how to regulate stress and emotional arousal
Discover why traditional psychological approaches might not be helping
Know when and how to find the right kind of therapy
Childhood trauma doesn't have to define you for the rest of your life. With this book as your guide, you will be able to make fundamental changes and replace needless suffering with self-care, security, and contentment.
About the Author
---
Glenn R. Schiraldi, PhD, has served on the stress management faculties at The Pentagon; the International Critical Incident Stress Foundation; and the University of Maryland, where he received the Outstanding Teaching Award in addition to other teaching and service awards. His books on stress-related topics have been translated into sixteen languages, and include: The Resilience Workbook; The Self-Esteem Workbook; Ten Simple Solutions for Building Self-Esteem; The Post-Traumatic Stress Disorder Sourcebook; and The Anger Management Sourcebook. Glenn's writing has been recognized by various scholarly and popular sources, including The Washington Post, American Journal of Health Promotion, Mind/Body Health Review, and the International Stress and Tension Control Society Newsletter. He has trained laypersons and clinicians around the world on various aspects of stress, trauma, and resilience, with the goal of optimizing mental health and performance while preventing and promoting recovery from stress-related conditions. His skills-based mind-body courses at the University of Maryland have been found to improve self-esteem, resilience, happiness, optimism, and curiosity, while reducing symptoms of depression, anxiety, and anger. He has served on the editorial board of the International Journal of Emergency Mental Health and Human Resilience, the board of directors of the Depression and Related Affective Disorders Association, and the ABC News post-traumatic stress disorder (PTSD) working group. A graduate of the United States Military Academy, West Point; he holds a doctorate from the University of Maryland. He is founder of Resilience Training International, which serves people facing great stress, their families, and their helpers. Learn more at www.resiliencefirst.com.