Acceptance and Commitment Therapy for Borderline Personality Disorder: A Flexible Treatment Plan for Clients with Emotion Dysregulation (Paperback)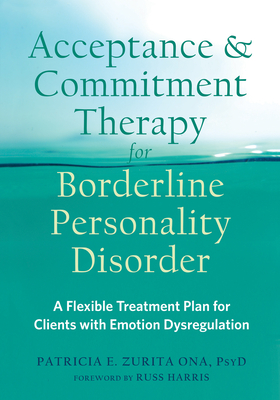 $49.95

Usually Ships in 1-5 Days
Description
---
Motivate your BPD clients with values-based treatment This 16-week ACT protocol will help you get started today.
As you know, clients with borderline personality disorder (BPD) and emotion dysregulation often struggle with negative beliefs about themselves--beliefs that can lead to feelings of shame, problems with personal relationships, and dangerous behaviors. And while dialectical behavior therapy (DBT) is the standard treatment for BPD, more and more, acceptance and commitment therapy (ACT) has shown promising results when treating BPD clients by helping them focus on their core values and forgiveness.
Acceptance and Commitment Therapy for Borderline Personality Disorder provides a comprehensive program for delivering ACT to clients with BPD. Using the session-by-session, 16-week protocol in this professional guide, you can help clients work through the main driver behind BPD--experiential avoidance--and gain the psychological flexibility needed to balance their emotions and begin healing. You can use this protocol on its own, or in conjunction with treatment.
With this guide, you'll learn to target the fundamental causes of BPD for better treatment outcomes and happier, healthier clients.
About the Author
---
Patricia E. Zurita Ona, PsyD, is a licensed clinical psychologist in California. Her clinical work started first as a school psychologist, and then as a clinical psychologist. She has significant experience working with children, adolescents, and adults with obsessive-compulsive disorder (OCD), trauma, anxiety, and emotion dysregulation problems. Known as "Dr. Z," she is founder of the East Bay Behavior Therapy Center, a boutique therapy practice where she runs an intensive outpatient program integrating acceptance and commitment therapy (ACT) and exposure and response prevention (ERP) to support clients getting stuck from obsessions to start living a better life based on their values. Zurita Ona attends local, national, and international conferences on a regular basis in order to keep up with current clinical research and deliver up-to-date therapy services to her clients. In addition to her doctoral training, she was nominated as a fellow of the Association for Contextual Behavioral Science (ACBS). She is also a graduate of the International OCD Foundation Behavior Therapy Training Institute (BTTI) for the treatment of pediatric OCD and adult OCD. She is coauthor of Mind and Emotions, a universal protocol for emotional disorders that has received a "Self-Help Seal of Merit" from the Association for Behavioral and Cognitive Therapies (ABCT). Foreword writer Russ Harris is an internationally acclaimed ACT trainer, and author of the best-selling ACT-based self-help book, The Happiness Trap, which has sold over 600,000 copies and been published in thirty languages. He is widely renowned for his ability to teach ACT in a way that is simple, clear, and fun--yet extremely practical.