Bill Ward: The Fantagraphics Studio Edition (Hardcover)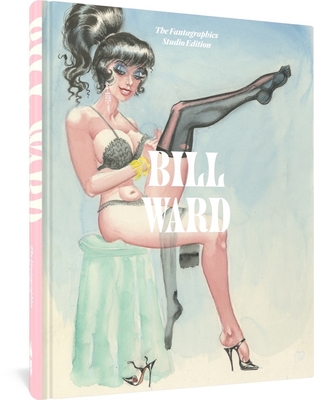 $175.00

Coming Soon - Available for Pre-Order Now
Description
---
Vintage glamour girl artist extraordinaire Bill Ward gets the full Fantagraphics Studio Edition treatment featuring Ward's most polished, fully-realized pinups from the 1950s and 1960s.
Bill Ward's glamour girls were the staples of countless men's and humor magazines, where they shared the pages with cult models like Bettie Page, Tina Louise, and Julie Newmar, and cartoons by fellow "good girl" artists such as
Archie
's Dan Decarlo and
Playboy
's Jack Cole. What set Ward apart—and above—his talented contemporaries in terms of sheer image-making was his use of the conte crayon.  When drawn on simple newsprint stock, this potent combination created Ward's trademark gossamer sheen on his women's thigh-high stockings.
This Fantagraphics Studio edition showcases the best of Ward's Humorama work and includes a healthy number of what became known as his "telephone girls." Tame by today's standards, Ward's telephone girls were always caught in candid moments when they just happened to be talking on the phone dressed in gossamer lingerie in innocently provocative poses.
The majority of the images in this volume were drawn between 1955 and 1965 when Ward was at the height of his skill. They have been scanned in super high-solution from original art and reproduced to highlight every sheen and accentuate every curve to its fullest.  The book not only reproduces more than 150 of Ward's most beautifully rendered illustrations, but also serves as a time capsule to a more innocent moment in pop culture when these images were shocking.
The Fantagraphics Studio Edition also features an introduction by fashion/style icon and burlesque superstar Dita Von Teese.  An original pinup art collector herself, Dita was mostly recently featured in Taylor Swift's music video "Bejeweled."
About the Author
---
When Bill Ward  passed away in 1998, he left behind a body of work that encompassed six decades and more than 10,000 pin-up cartoons.  By mastering a medium called the Conte Crayon, Ward was able to render unparalleled detail and textures, including the exquisite sheen on his trademark black thigh-high stockings. His Barbie-proportioned glamour girls graced the pages of countless men's and humor magazines where they shared the pages with photos of Bettie Page and pin-up cartoons by legendary Playboy Magazine artist Jack Cole.

Alex Chun is a Los Angeles-based writer/editor focusing on all things pop culture. In his free time, he collects original pin-up art, works in production for superhero films and maintains the site pinupcartoongallery.com. His books include The Pin-Up Art of Dan DeCarlo (two volumes), The Pin-Up Art of Bill Wenzel, The Pin-up Art of Bill Ward, The Glamor Girls of Don Flowers, The Glamour Girls of Bill Ward, Classic Pin-Up Art of Jack Cole, and The Pin-Up Art of Humorama.

Dita Von Teese is the brightest star in burlesque since Gypsy Rose Lee. As style icon and muse to artists, designers, and photographers, she has appeared on magazine covers and runways for Jean Paul Gaultier, Moschino, and Giambattista Valli, and is the performer of choice for Marc Jacobs, Christian Louboutin, and Louis Vuitton. A longtime fan of pin-up art, Dita's personal collection includes originals by Zoe Mozart, Jean-Gabriel Domergue, Olivia De Berardinis, and of course, Bill Ward.