Dauntless Dames: High-Heeled Heroes of the Comics (Hardcover)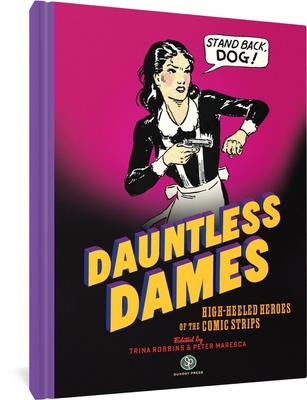 $100.00

Coming Soon - Available for Pre-Order Now
Description
---
The audacious exploits of ten great adventurous female stars from the Golden Age of comic strips.
In the 1920s they were socialites and flappers. In the 1960s they were homemakers and heartthrobs. But from the late 1930s to the early 1950s, female stars of the newspaper comic strips were detectives, spies, soldiers of fortune, even superheroes. Accomplishing everything the male comics stars of the time achieved, except they did it in high-heels and flowing skirts. Follow the daring exploits of these smart, tough, independent AND sexy
Dauntless Dames
.
Both a product of their era and ahead of their time, the women in these stories gave their audience just what they needed. Through the Sunday Comics readers could escape from the woes of the Depression, travel to exotic foreign lands, feel the glamor and gangsters of the entertainment world, and support the Allied efforts in World War II.
Presented in an extra-large format, here are the colorful, pulse-pounding tales of ten incredible women, both known and unknown to comics fans — and most are reprinted here for the first time in three-quarters of a century! The book also includes a special bonus: an insert section with a dozen paper doll cutouts starring the most popular women comic strip characters of the day.
About the Author
---
Retired underground cartoonist and current comics herstorian Trina Robbins has been writing graphic novels, comics, and books for almost half a century. Her subjects have ranged from Wonder Woman and The Powerpuff Girls to her own teenage superheroine, GoGirl!, and from women cartoonists and superheroines to women who kill. She's won an Inkpot Award and was inducted in the Will Eisner Hall of Fame at the San Diego Comic-Con. She lives in a moldering, 100+-year-old house in San Francisco with her cats, shoes, and dust bunnies.

Peter Maresca is the founder of Sunday Press Books, a publisher of comic strip reprint collections that has won multiple Eisner and Harvery Awards since its inception in 2005.