Chartwell Manor (Paperback)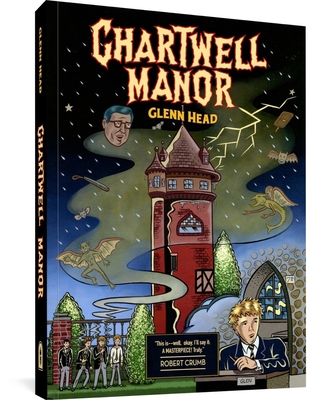 $24.99

Coming Soon - Available for Pre-Order Now
Description
---
New in paperback: alternative cartoonist Glenn Head's harrowing graphic memoir is about years of sexual and emotional abuse suffered at a boarding school during his adolescence and the resultant trauma that took him almost 50 years to process before being able to tell his story publicly.
No one asks for the childhood they get, and no child ever deserves to go to Chartwell Manor. For Glenn Head, his two years spent at the now-defunct Mendham, NJ, boarding school — run by a serial sexual and emotional abuser of young boys in the early 1970s — left emotional scars in ways that he continues to process. This graphic memoir — a book almost 50 years in the making — tells the story of that experience and then delves with even greater detail into that experience's reverberations in adulthood, including addiction and other self-destructive behavior. Head tells his story with unsparing honesty, depicting himself as a deeply flawed human struggling to make sense of his childhood. Now in paperback.
About the Author
---
Glenn Head was born in 1958 in Morristown, New Jersey, and began drawing comics when he was fourteen.  In the early 1990s Head co-created (with cartoonist Kaz) and edited Snake Eyes, the Harvey-Award nominated cutting edge comix anthology series and he was a frequent contributor to the Fantagraphics' comix anthology quarterly Zero Zero.  From 2005 to 2010 Glenn edited and contributed to the Harvey and Eisner-nominated anthology HOTWIRE Comics and recently created his graphic epic, Chicago (2015).  He lives in New York City.
Praise For…
---
Chartwell Manor is a raw and cathartic story about how to reckon with the past, and a powerful reminder that sexual assault can take years to understand, much less recover from.

— Entertainment Weekly

A harrowing and important graphic novel.
— Hollywood Reporter

Unflinchingly honest and hypnotically powerful, this is a standout entry on the shelf of the great graphic autobiographies.
— Publishers Weekly

This is a great graphic novel. I couldn't put it down... Starkly honest, a powerful story...the level of merciless self examination...I was deeply impressed. Head has traveled a long way to get to this point. ... A Masterpiece!It's good for the world...
— R. Crumb