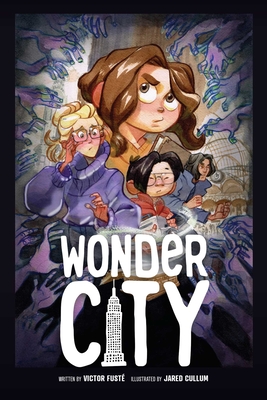 $17.99

Usually Ships in 1-5 Days
Description
---
Caught in a whirlwind of adventure and the supernatural, it's up to sisters Alex and Elizabeth Riley to save all of New York from succumbing to the legions of the undead!

Wonder City tells the story of two combative teenage sisters coping with the sudden loss of their father in New York City, 1984. As the mysteries surrounding their father's untimely demise start to pile up and veer toward the supernatural, the Riley sisters must confront the terrible truth about their tension fraught relationship before the past literally rises from the dead.

Taking cues from The Goonies, Indiana Jones, and Stranger Things, Wonder City captures the joyous, adventurous tones of Amblin era 1980s films in a love letter to the can-do attitude of young teenagers with guts beyond their years and an independent streak longer than their common sense. Set in the crime-ridden, synth-heavy, neon-filled streets, alleyways and subway tunnels of Manhattan, Wonder City digs deep into New York's wild history to test the Rileys' bonds of sisterhood.
About the Author
---
Victor Fusté is a writer and storyboard artist based in the Pacific Northwest. Over the years, he has worked in a variety of roles at Firewalk Studios, DreamWorks Animation, and Marvel Entertainment.

Jared Cullum is a cartoonist, writer, and painter with a deep passion for connecting with people through visual storytelling living in Pittsburgh, PA. Between developing stories, he teaches traditional plein-air painting and anatomy. He has also written and painted story art for Boom/Archaia and Jim Henson Productions, working on such titles as Planet of the Apes, Labyrinth, Fraggle Rock, and Storyteller. Jared also wrote and illustrated the Eisner Award-nominated and Reuben Award-winning middle-grade graphic novel Kodi.