Sacred Medicine: A Doctor's Quest to Unravel the Mysteries of Healing (Hardcover)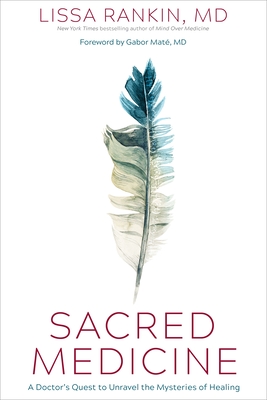 Description
---
"Sacred Medicine is a book of inclusion. It does not prescribe nor preach nor proselytize: it illustrates, informs, and illuminates." —From the foreword by Dr. Gabor Maté, author of When the Body Says No and In the Realm of Hungry Ghosts

In 2007, Lissa Rankin left a promising career in medicine to tend to her own health and well-being. Her search to discover why people really get sick and what truly optimizes health outcomes launched a bestselling book, two television specials, and a revolution in the way we look at mind-body medicine. But so many questions remained for this doctor and skeptic. How is it that some people do everything right and stay sick, while others seem to do nothing extraordinary yet fully recover? How does faith healing work—or does it? What's behind the phenomenon of spontaneous remission—and is this something we can influence? Can we make ourselves miracle-prone?

Certain that, if she looked hard enough, she would find the answers, Dr. Rankin embarked on a decade-long journey to explore these questions and more. The result is Sacred Medicine, both a seeker's travelogue and a discerning guide to the sometimes-perilous paths available to patients when wellness fads, lifestyle changes, and doctors have failed them.

In Sacred Medicine, you'll follow Dr. Rankin around the world to meet healers gifted and flawed, go on pilgrimage to sacred sites, investigate the science of healing, and learn how to stay safe when seeking a healer. You'll receive the wisdom offered by Indigenous cultures for whom healing begins with our sacred connection to Mother Earth, and dive deep into the cutting-edge trauma research that is igniting a medical revolution. Rich with practices and protocols that Dr. Rankin has found particularly effective, Sacred Medicine delivers a thoughtful, grounded exploration of questions around how we heal—and a path of hope for those in need.
About the Author
---
Lissa Rankin, MD, is the star of two national public television specials and the author of seven books, including the New York Times bestselling Mind Over Medicine. Founder of the Whole Health Medicine Institute, she is a physician, educator, and health-care advocate who seeks to bridge the divides between traditional medicine, complementary medicine, and cutting-edge trauma therapy. Dr. Rankin leads online training programs for medical and healing-arts professionals, as well as the public, and has offered workshops at retreat centers internationally. Her nonprofit Heal At Last seeks to provide equal access to trauma healing and spiritual practices for everyone who needs treatment. She resides in Northern California. For more, visit lissarankin.com.
Praise For…
---
"Sacred Medicine is a must-read for anyone who respects the importance of conventional medicine and also wants to dive in to the transformative possibilities of emotional and spiritual healing. Dr. Rankin's healthy dose of skepticism and careful eye for safety make her the perfect guide to introduce the reader to a wide array of healing theories and practices." —Kelly A. Turner, PhD, New York Times bestselling author of Radical Hope and Radical Remission

"Sacred Medicine delivers on the promise of its title, and more. As a wellness advocate who believes that there is no separation between healing and justice, I was delighted to read every one of Lissa Rankin's words. She has managed to honor both the sacred and the science while illuminating the truth that the two are inextricably linked. Themes of curiosity, compassion, and justice artfully weave throughout the pages in a way that compels the reader to see community as a foundational element of healing. I am so grateful for this expansive, intentional, and incredibly well-researched and well-experienced text on medicine. Brava!" —Rebekah Borucki, mother, author, publisher, advocate

"Sacred Medicine takes you on an exciting tour of nontraditional approaches to healing through the eyes of a traditionally trained physician who also carries the heart of a spiritually evolved guide. Ancient and modern healing practices are submitted to the rigors of rational, scientific thought and tapped for their inherent utility and sacred wisdom. Ultimately, you will be the beneficiary of this unique exploration as you navigate your own way through your culture's confusion about healing and spiritual development." —Donna Eden and David Feinstein, PhD, coauthors of Energy Medicine

"This is the wisest, most thorough analysis of the mysteries of healing to appear in years. As a physician/healer, Lissa Rankin approaches this subject with scientific thoroughness, but also with the respect and tenderness it requires. This book will be enormously valuable for anyone in the helping professions and for anyone who needs healing—and who doesn't?" —Larry Dossey, MD, author of One Mind

"This is the book we've all been waiting for—the one that helps us harness the power to heal ourselves while also acknowledging a sacred truth: we often need each other too. Take this book and hold it close to your heart, for there is no better guide than Lissa Rankin for the journey. Through this book, she helps us surrender to the mystery of healing while also supporting us fully in finding the medicine we each deserve." —Amy B. Scher, bestselling author of This Is How I Save My Life

"As an integrative medicine physician who constantly navigates this confusing world of science (which I love with my whole heart, but it is limited in its scope) and the vital but murky waters of spirit, faith, energy, qi, prana, and a host of healing modalities, I deeply respect the journey that this book took Lissa Rankin on personally and professionally. And to navigate these waters within a societal structure that is inherently sexist, racist, professional-ist (not a word, but should be), and infinitely inequitable is a monumental challenge. Dr. Rankin is an admirable warrior in this realm, calling out the shadow and trauma in ourselves and in the fallible humans who can sometimes also be talented and effective healers. In Sacred Medicine, she puts the tools of transformation into our hands and gently leads us to the experiences that can unlock healing." —Rachel Carlton Abrams, MD, MHS, ABOIM

"Once in a rare while, one happens upon a writer who is capable of linking worlds and healing the soul. Dr. Rankin is, on one hand, a highly trained physician devoted to evidence and all that the unblinking rational mind can tell us. And on the other hand, she is an explorer who walks into the deeper, less-mapped mysteries of healing where only the prostrate soul can pass. She examines, she pokes, she asks for evidence, she asks what works, she questions herself, and she slowly moves us ahead. It's about the physical, yes, but also about healing the deeper developmental and acute traumas. It's about the science, yes, but also about opening one's heart and knowing how to protect that which is most beautiful and essential. It's about healing the individual, yes, but also about healing the communities and culture. Read this book with attention to the particularities of your own spectacular, wild, and utterly unique life. This is a deeper medicine." —Jeffrey D. Rediger, MD, MDiv, author of Cured

"My father was a physician/researcher who wouldn't have believed much of what is contained in this book. Yet he taught me to follow the data, even if it takes you far outside your paradigm. Lissa Rankin is uniquely positioned to lead us on a journey far outside the paradigm of conventional medicine. She is a well-trained physician who appreciates Western medicine and became intrigued by stories of other kinds of healing. She keeps her skeptical part close by as she opens her mind enough to explore the territory of miracle cures and alternative treatments. As she engagingly describes this journey, interspersed with vulnerable self-disclosure and amazing stories, I found myself opening to possibilities I had dismissed. I'm so grateful for the in-person and academic research she includes, as well as for her beginner's mind approach. You will be fascinated by her journey and grateful to her for bringing you along. This book is a big step forward in bridging the gap between traditional and alternative healing!" —Richard Schwartz, PhD, developer of the Internal Family Systems model of psychotherapy and author of No Bad Parts

"Dr. Lissa Rankin takes the reader by the hand on a multidimensional quest for healing and personal transformation through stories, ponderings, and wisdom gleaned from her own life's journey. A bold and stimulating book." —Beverly Rubik, PhD

"Sacred Medicine is a gift for our times. Through the wit, wisdom, and candor we have come to know and love from Dr. Lissa Rankin, we discover and uncover the mysteries of healing across the globe—picking up priceless gems from visits to sacred sites, energy healers, dancers, shamans, and trauma therapists along the way. Throughout the adventure, Lissa provides practical steps that allow us to take in the joy of healing with Spirit while practicing wise, trauma-informed discernment. If you're looking to open your heart, soul, and mind to the powerful adventure of healing and personal growth, please take Sacred Medicine as a trusted guide along with you in your journey." —Shamini Jain, PhD, founder and CEO of the Consciousness and Healing Initiative and author of Healing Ourselves

"Modern medicine can be highly effective in treating some illnesses, but it can't cure everything. If you or someone you love has a medical issue where doctors shrug and give up, Sacred Medicine is the book for you. Dr. Lissa Rankin writes in an engaging, encouraging, and empathic manner, and her survey of 'whole health' approaches to healing is accurate, timely, and authoritative. Bravo!" —Dean Radin, PhD, chief scientist at the Institute of Noetic Sciences and author of Real Magic

"I strongly recommend Sacred Medicine. There is so much wisdom and information in this book for healing professionals of all kinds, as well as for those struggling with health problems. Dr. Rankin integrates a strong Western scientific basis with an openness to methods of healing that are non-Western and nontraditional. She addresses the paradoxes of healing, writing with nuance about the intersection of science with spirituality, medicine, energy healing, cutting-edge trauma treatments, and making informed medical decisions that are grounded in research and critical thinking and while in touch with emotional, somatic, and intuitive intelligence. This book is an important addition to the broad field of healing." —Laurence Heller, PhD, founder of the NeuroAffective Relational Model (NARM) and coauthor of Healing Developmental Trauma

"Sacred Medicine is an account of Dr. Lissa Rankin's valuable and moving ten-year adventure in the science and art of healing, complete with a powerful smorgasbord of methods to try and healers to learn about. Whether she's writing about healing with energy, going on retreat at Lourdes, sampling the arts as forms of healing, describing scientific research on healing, or experiencing potent, emerging therapies, Lissa's evocative prose, deep insight, and wonderful storytelling make for an absorbing and valuable read. Be ready to try it all." —Asha Clinton, PhD

"In this age when dogmatism dominates discussion and people seek out only the like-minded in order to reinforce their beliefs, along comes a breath of fresh air in Dr. Lissa Rankin! Traditionally trained in Western medicine and a fan of its impressive accomplishments, Lissa nonetheless dives deep into a dizzying array of alternative and complementary approaches to healing. She takes us on a rollicking ride into worlds of healing, not just as a critical thinker (which she surely is) but also as someone unafraid to experience her subject firsthand with open eyes, an open heart, and an unquenchable sense of adventure.
Join Lissa on this adventure and, regardless of your starting point, you will have your beliefs and ideas challenged as she continuously challenges her own thinking. This book is not for those who want to remain safe in their own dogmatic silos. How refreshingly delightful!" —William F. Bengston, PhD, president of the Society for Scientific Exploration

"In a time of increasing polarity and othering, we find ourselves, our society, and our planet growing sicker than ever. Sacred Medicine is a bridge to real wholeness and healing, an embrace of the paradox, and an integration of both the conventional and the natural, the spiritual and the scientific. This book is a comprehensive and generous gift, not only for those who are seeking healing but also for those who are the healers, doctors, and practitioners who nobly set out to help humanity—but have found it hard to make peace and healing within the fields they inhabit." —Kelly Noonan Gores, writer/director/producer of the documentary HEAL

"Lissa Rankin's eye-opening new book offers a binary prescription: make use of both science and spirituality, conventional and unconventional medicine, in the great work of healing. With a passionate, compassionate, and humble heart, she will help expand your definition—and conception—of what's within your power when it comes to your own healing journey." —Gregg Levoy, author of Callings and Vital Signs