The Power of Emotions at Work: Accessing the Vital Intelligence in Your Workplace (Paperback)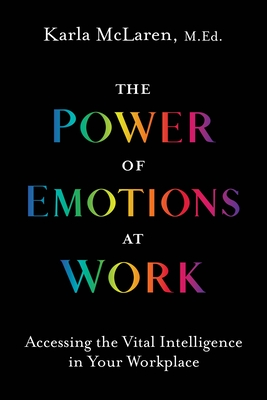 $18.99

Usually Ships in 1-5 Days
Description
---
An in-depth guide for all workers—employees, managers, and CEOs—on how to engage our emotions in the workplace to create a productive, creative, and truly workable environment.

We've all been taught that we must suppress or avoid emotions at work, but this inevitably leads to a loss in productivity, diminished creativity, and crushing job dissatisfaction. Research shows 85 percent of us avoid communicating crucial workplace problems upward, and many of us who are employed are actively looking for a different job. What's going on?

"The foundational problem is that we threw emotions out of the workplace, when in fact, emotions contain the information we need to make our workplaces work," says Karla McLaren. Now this renowned researcher shares her insights on the skills we most need—and are most often absent in the business world—for healthy, functional, and sustainable workplaces.

With The Power of Emotions at Work, McLaren teaches communication and empathy skills to workers at all levels, including:

· How to co-create a healthy and well-balanced social environment that benefits all workers in any type of organization
· How to recognize your primary emotional role—and the roles of others
· How to support people in your organization who perform the most "emotional labor"
· Where to find authentic motivation and engagement in your job
· How to go from an "unintentional community" to a place of genuine belonging, and much more

We all yearn to be our authentic selves at work, where we feel supported and can communicate our feelings and frustrations in a constructive way. Workplaces are "unintentional communities," says Karla McLaren, because without access to our emotions at work, we are left without the tools we need to do our best work in a functional community. This is your resource to help you understand and engage intelligently with emotions at work—so you can help to create healthy and intentional communities where people and projects thrive.
About the Author
---
Karla McLaren, M.Ed., is an award-winning author, social science researcher, and empathy pioneer. Her work focuses on her grand unified theory of emotions, which revalues even the most "negative" emotions and opens startling new pathways into self-awareness, effective communication, and healthy empathy. She is the CEO of Emotion Dynamics LLC and the developer of the Empathy Academy online learning site.
Karla is the author of Embracing Anxiety, The Dynamic Emotional Integration Workbook, The Art of Empathy, The Language of Emotions, and the multimedia online course Emotional Flow: Becoming Fluent in the Language of Emotions.
Praise For…
---
"The Power of Emotions speaks truth to the reality that so much of work is actually emotional work and that the toxic positivity bias is creating untenable, unhealthy teams and cultures. This wonderful, insightful, and practical book will help you create teams that work better together and make better work." —Charlie Gilkey, author of Start Finishing: How to Go from Idea to Done