Tales from the Green Bay Packers Sideline: A Collection of the Greatest Packers Stories Ever Told (Tales from the Team) (Hardcover)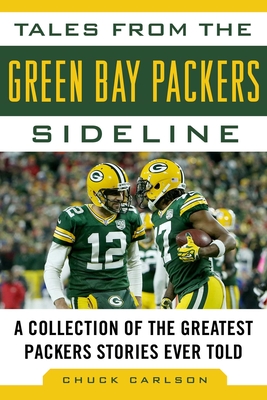 $24.99

Usually Ships in 1-5 Days
Description
---
Experience the thrill of Packers football—newly updated through the 2019–2020 season!
Since their dominance of professional football in the 1960s, the Green Bay Packers have reemerged as one of the elite teams in the NFL, with Super Bowl championships in 1996 and 2010. The victory and legend of Green Bay Packers continues in Chuck Carlson's Tales from the Green Bay Packers Sideline , now updated through the 2019 season. In this behind-the-scenes look at the NFL's second oldest franchise, Carlson captures the determination, aggression, and vision that have constantly spurred the Packers to greatness.

Through interviews and extensive research, Carlson brings to life stories from Packers legends such as Curly Lambeau, Vince Lombardi, Bart Starr, Ray Nitschke, Brett Favre, and the stars of today's Packers like Aaron Rodgers, Davante Adams, and Aaron Jones.  Tales from the Green Bay Packers Sideline opens a window into the greatest Packers moments both on and off the field. Why was Vince Lombardi against the idea of rededicating the Packers stadium and naming it Lambeau Field? How was Monday Night Football changed forever during a Packers game on October 17, 1983? How did Aaron Rodgers respond to the pressure of Super Bowl XLV?

Readers will relive the greatest moments and quirkiest anecdotes from throughout Packers history. This newly updated collection is a must-have for any Green Bay fan.
About the Author
---
Chuck Carlson was a sports writer/columnistfor more than 30 years with newspapers in Virginia, Maryland, Washington, Illinois Nevada, and Wisconsin. He spent eleven years covering the Green Bay Packers for the Appleton Post-Crescent and this is his tenth book on the Packers. He is now director of media relations for Albion College in Michigan and he lives in Marshall, Michigan.