Things I'll Never Say (Hardcover)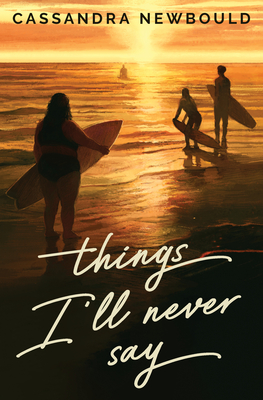 $18.99

Usually Ships in 1-5 Days
Description
---
Beautiful, necessary, and deeply personal. This powerful coming-of-age story about teen mental health and navigating grief will ressonate with fans of You'd Be Home Now and The Way I Used to Be.

Ten years ago, the Scar Squad promised each other nothing would tear them apart. Even when Casey Jones Caruso lost her twin brother Sammy to an overdose, and their foursome became a threesome, the squad picked each other up. But when Casey's feeling for the remaining members—Francesca and Benjamin—develop into romantic attraction, she worries the truth will dissolve them.

Casey tries to ignore her heart, until Ben kisses her at a summer party, and Frankie kisses another girl. Now Casey must confront all the complicated feelings she's buried—for her friends and for the brother she's totally pissed at for dying. Since Sammy's death, Casey has spilled all the things she can no longer say to him in journals, and now more than ever, she wishes he were here to help her decide whether she should guard her heart or bet it all on love, before someone else decides for her.

Cassandra Newbould's stunning and deeply personal debut novel follows a teen girl struggling to find herself in life and in love after losing her twin brother to the opioid crisis.
About the Author
---
Cassandra Newbould is the editor and a contributor of the YA intersectional, fat, feminist anthology Every Body Shines (Bloomsbury, '21) and the contemporary YA epistolary Things I'll Never Say (Peachtree, '23). As host and creator of the Fat Like Me podcast, Cassandra has discussed the need for more intersectional body diversity in kid lit. She lives in the Pacific Northwest with her family. When she's not writing, you can find her at a poker table reminding the other players to never underestimate the power of a determined girl and her cards.
Praise For…
---
"Newbould . . . successfully normalizes consensual nonmonogamous relationships for teens. . . . A forceful exploration of the complexities of love and loss."—Kirkus Reviews
 
"All at once heart wrenching and heartwarming. The pages can't turn fast enough. An intimate portrayal of grief and all the love and confusion that comes with it, Things I'll Never Say is a must-read for readers who love big feelings books!" —Ashley Schumacher, author of Amelia Unabridged
 
"I felt like I was back home by the beach. The way Casey explores grief hurt my heart, but the way she experiences love massaged it." —Francina Simone, author of Smash It!
 
"Beautiful and poignant. The book I needed at seventeen, but am glad to have now." —Charish Reid, author of Hearts on Hold

"All the feels! Cassandra Newbould gives us a moving story of first loves and first loss. A must-read for anyone picking up the pieces after heartbreak." —Kelly deVos, author of Eat Your Heart Out and Fat Girl on a Plane
 
"Raw and vivid, Things I'll Never Say gives a genuine and emotional account of processing loss. Having lost a sibling as a young adult myself, Newbould hit the nail on the head––grief is very much the ebb and flow of waves capable of consuming those left behind. Burning the coping journals is a hauntingly beautiful way for Casey to remain connected to her twin brother." —Taj McCoy, author of Zora Books Her Happy Ever After
 
"Beautifully written, voicey, and raw. Things I'll Never Say will leave you feeling like you've read a close friend's private journal, and it reminds us to not let fear rob the little time we have to dive fully into loving ourselves and others. This is a powerful and essential debut everyone should read." —Rebecca Sky, author of Arrow Heart
 
"Cassandra Newbould will capture your heart on every page and you'll fall head over heels for this emotional and gripping coming of age story. Things I'll Never Say is a love letter to friendship, love, and finding hope after hopelessness. Casey is a character who made me laugh, cry, and remember summer nights. I couldn't put it down!" —Denise Williams, author of The Fastest Way to Fall