Hooked on Books (Hardcover)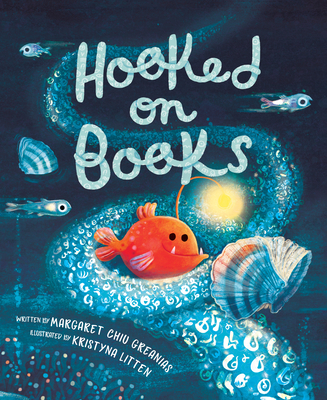 Description
---
Pearl just wants to read her book in peace, but the other fish won't leave her alone!

Pearl can't wait to dive into her new book, but the other sea creatures keep interrupting and nothing she does will keep them away—not hanging signs, not hiding under the seaweed, nor swimming away to a shipwreck. So Pearl plucks up her book and swishes down, down, down for a distraction-free place to think and to read. But just as she settles back in, here comes a light show from the comb jellies! GAH! What's a poor fish got to do for some quiet alone time?

Little ones who struggle to focus in busy environments will relate to Pearl, a grumpy anglerfish, as she searches for quiet in this funny and gentle reminder about establishing healthy boundaries and respecting personal space.

About the Author
---
Margaret Chiu Greanias has been hooked on books for as long as she can remember. She lives in a busy household in the San Francisco Bay Area with her husband and three children and sometimes gets grumpy when she can't find the time or space to read. She is the author of Amah Faraway and Maximillian Villainous. Visit her online at MargaretGreanias.com.

Kristyna Litten Kristyna Litten studied illustration at Edinburgh College of Art and has gone on to illustrate and write numerous picture books for children. Her enthusiasm for nature, architecture, and pattern has lead to many exciting projects all over the world. She lives in a beautiful village in Yorkshire.
Praise For…
---
"Litten's whimsical illustrations, made up of adorably anthropomorphic undersea creatures, make wonderful use of light and dark. Coupled with Greanias' adept storytelling, they capture the perfect balance between frustration and friendly compromise. Bookworms—whether on land or in the sea—will feel seen."—Kirkus Reviews