Madeline Finn and the Shelter Dog (Hardcover)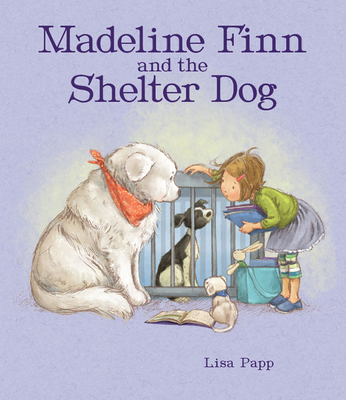 Description
---
Madeline Finn finds a new way to help more dogs and read more stories, in this latest book from award-winning author-illustrator Lisa Papp.

After Madeline Finn meets library dog Bonnie, she asks her mother for a puppy of her own every single day. Finally, Mom says yes, and Madeline Finn chooses Star, one of Bonnie's puppies.

Then Bonnie's owner, Mrs. Dimple, tells Madeline Finn about animal shelters―places many other pets come from. A visit to their local shelter leads Madeline Finn to ask some questions. Does anyone play with the shelter dogs, or snuggle with them, or read to them? Questions lead to answers, and ideas, and soon Madeline Finn and her human and animal community discover there are lots of ways for small people to make a big difference.

Award-winning author-illustrator Lisa Papp offers a kind, empathetic exploration of life in an animal shelter in this perfect story for dog lovers, pet adoption and rescue advocates, and young readers learning how to make a difference through community service.
About the Author
---
Lisa Papp grew up telling stories. With a notebook full of sketches, her early tales featured her cat, stuffed animals, and other nature-y things. Today, Lisa is still making up stories and painting pictures, only now, they fill the pages of children's books. She has received awards for both her writing and illustration, including a 2011 NAPPA Honor Award, 2012 Storytelling Award, and the 2013 PA Keystone to Reading Award. Lisa lives in Pennsylvania, with her husband, Robert, also an artist, and three wildly creative cats—to whom she does read.
Praise For…
---
"Cheerful. . . Charming. . . the story provides a positive look at two ways of acquiring a new pet." —Kirkus Reviews

"A gentle first-person text accompanies the watercolor-and-pencil illustrations on soothing beige pages, which perfectly befit the reassuring, happy ending." —Booklist