Draw Close to Jesus: A Woman's Guide to Eucharistic Adoration (Paperback)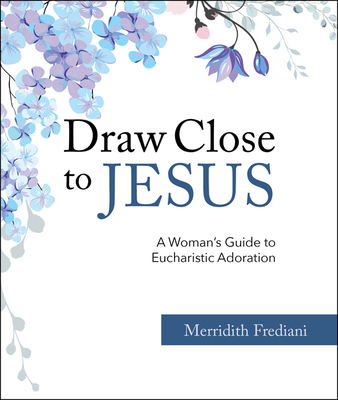 $10.95

Usually Ships in 1-5 Days
Description
---
Jesus counted many women among his closest followers during his earthly ministry. He encountered, forgave, and healed women, including the woman at the well, the hemorrhaging woman, and the woman caught in adultery. And their lives were changed forever.
Our lives are also changed when we spend time with Jesus in Eucharistic adoration. In Draw Close to Jesus: A Woman's Guide to Eucharistic Adoration, Merridith Frediani offers women heartfelt, practical guidance for meeting Jesus in adoration and allowing him to transform us.
Containing reflections, encouragement, passages from Sacred Scripture and the Catechism, as well as stories from the saints, this book is divided into five helpful sections that can be read in any order:
An introduction to Eucharistic adoration for beginners
Going deeper in understanding God's greatness, his mercy, and his abundant love
The fruits received from a closer relationship with Jesus
Facing obstacles in our prayer life
The richness of the Catholic Faith
God calls to us in the depths of our hearts. He wants us to come to him and rest. We do not need to bring anything; we just need to show up. He knows the world is pulling us in many directions, and our many responsibilities can be overwhelming. He knows we make mistakes, yet he keeps inviting us. When we come to him, we open ourselves to the one who loves us most deeply. We bring him our empty vessel, and he fills it. We adore him, and he loves us back -- wholly and completely -- for no other reason than that we are his.
"Only authentic love can heal our hearts. In this book, you will encounter the love of Jesus who so graciously and tenderly meets us in the Eucharist. These beautiful reflections are a breath of fresh air for every woman who desires to draw close to Jesus and allow His gaze to heal, bless and transform her heart."
-- Sr. Miriam James Heidland, SOLT, Catholic speaker, podcaster, and author of Loved As I Am
"Merridith Frediani provides women with the perfect companion for the journey into Eucharistic adoration and a deepened interior life. A roadmap to growth in holiness, Draw Close to Jesus is warmly approachable and theologically substantial, woven delightfully with anecdotes and personality. Both challenging and charming, I am certain this book will bless all who pray with it."
-- Father John Burns, speaker and author of Lift Up Your Heart: A 10-Day Personal Retreat
"Through Scripture, the Saints, beautiful devotions, and a true desire for women to stay plugged into the Sacraments -- especially the most Blessed Sacrament -- Merridith has given us a real gift May this companion to Eucharistic adoration bring everyone who reads it closer to His Sacred Heart "
-- Sarah Swafford, speaker and author of Emotional Virtue
"In this beautiful work, Merridith Frediani provides women with all the means needed to pursue holiness The book's use of Scripture is endearing and uplifting, making the Lord's presence more richly felt and experienced by those in Adoration. Draw Close to Jesus: A Woman's Guide to Eucharistic Adoration takes the feminine genius to a whole new level in the spiritual life."
-- Father Jeffrey Kirby, STD, author of Way of the Cross for Loved Ones Who Have Left the Faith
"Whether you are new to Eucharistic Adoration, or an 'adoration pro, ' this book is for you. In a style accessible to all, Merridith Frediani does a beautiful job weaving together the basics of how to enter into the practice of adoring Jesus in the tabernacle, with her profound Scripture reflections, ending with a treasure trove of Catholic prayers. It is a true gift to the Church, and it should be in the back of every Adoration Chapel."
-- Terry Polakovic, author of Life and Love: Opening Your Heart to God's Design and Women of Hope: Doctors of the Church