Soup of the Day (Rev Edition): 365 Recipes for Every Day of the Year (Hardcover)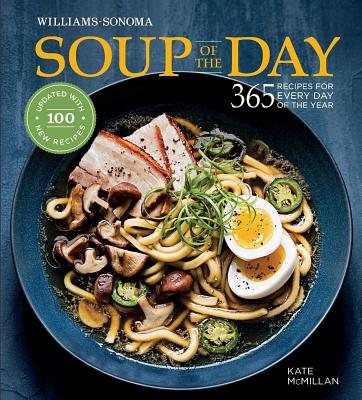 $34.95

Usually Ships in 1-5 Days
Description
---
This revised edition of the 2012 best-selling title features 100 new seasonally driven recipes and a selection of new full-color photography. This well curated collection of recipes offers a delicious soup for every day of the year.

Soup is often thought of as comfort dish for cold weather, Soup of the Day showcases how diverse soups can be. From light gazpachos to hearty chowders, cream of tomato to chicken noodle, vegetable-lentils to steak and potatoes, there's something to please every palate throughout the year—and plenty of full-meal soups for easy dinner solutions.

New recipes include:
Creamy Cauliflower Soup with Crispy Pancetta & Gremolata
Creamy Brussels Sprouts Soup with Maple Bacon
Indian-Spiced Parsnip Soup with Grilled Naan
Mac & Cheese Chili
Tofu-Kimchi Stew
Mushroom, Leek, Wheat Berries & Shrimp Soup
Snow Pea Consommé with Cheese Tortellini
Caramelized Leek Soup with Blue Cheese Crumble
Lamb & Chickpea Chili with Cumin Crema
Carrot-Gruyere Soup with Brown Butter Croutons
Asiago-Stout Soup with Caramelized Spicy Pears
Ramen with Roasted Pork & Soft Egg in Spicy, Soy Broth
Clam & Celery Root Chowder
Cream of Black Bean Soup with Roasted Poblanos & Cotija Cheese
Provencal Chard Soup with Lardoons
Ginger–Galangal Broth with Chili & Chicken
Meyer Lemon & Potato Soup
Tomato Tarragon Soup with Fennel Croutons
Grilled Asparagus & Green Onion Soup with Poached Egg
Corn & Spinach Chowder with Avocado

The recipes are categorized by month of the year and laid out in an easy-to-follow, calendar format. The monthly calendars highlight the season's best ingredients to bring you fresh and delicious flavor combinations all year round.
About the Author
---
Kate McMillan is chef and owner of an eponymous catering company and was an instructor at Tante Marie's Cooking School in San Francisco. Kate has worked as an event planner for Vogue and Glamour magazines. She lives in the San Francisco Bay Area with her husband and three young daughters. She has written 10 cookbooks for Williams-Sonoma, including five titles in the "What's for Dinner" series and several in the "Of the Day" series