Social Fiction (Paperback)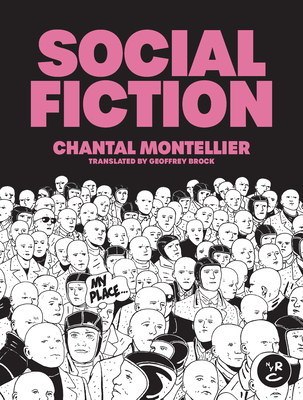 $24.95

Coming Soon - Available for Pre-Order Now
Description
---
Appearing together in English for the first time, three politically charged sci-fi graphic novellas by a pioneering French comics artist.

An anonymous official chides a man under surveillance for stepping out of view of a security camera; visitors to an underground mall are forced to form a new society when a nuclear strike may (or may not) have left them as the sole survivors on Earth; newlyweds living in an authoritarian New York City attempt to navigate the insidious hurdles of being permitted to have a child; and a Puerto Rican boxer discovers that segregation continues in America long after death.

These are the visions of Chantal Montellier, a contributor to the legendary Métal Hurlant, and the creator of some of the most striking and stirring science fiction comics of the 1970s and 1980s.

In this collection of three novellas, Wonder City, Shelter, and 1996, published together in English for the first time, Montellier's blend of dark humor, gripping storytelling, and consistent focus on the perils of totalitarianism, shows her to be a master of both comics and science fiction.
About the Author
---
Chantal Montellier is a French novelist, painter, and comics creator. Montellier began working as an editorial cartoonist in 1972, with work appearing in newspapers and magazines such as Politis, L'Humanité, and Marianne. A contributor to the renowned comics magazine Métal Hurlant and one of the most active female comics creators in France, Montellier is known for her realist drawing style and her engagement with political and feminist themes in her work.

Geoffrey Brock is the author of two books of poetry, most recently Voices Bright Flags, and the translator of a number of books, including the NYRB Classics and NYR Children's Collection editions of Carlo Collodi's Pinnochio and the NYRC edition of The Tenderness of Stones.