Lizzie Searches for Love Trilogy: Three Novels in One Volume (Mass Market)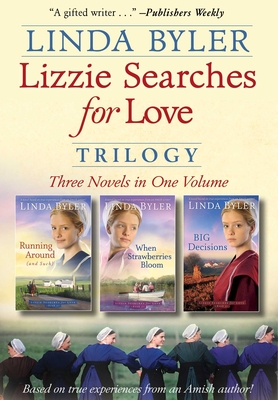 $16.99
Email or call for price
Description
---
Bestselling Amish Romance Series, Written by an Amish Author!
Contains all three Lizzie Searches for Love books by Linda Byler
Ideal gift for readers in search of a love story
A wholesome romance featuring a spirited young woman of faith
Lizzie Searches for Love
books are all based on true experiences. They are, in order: 
Running Around (and Such): Lizzie is trying to figure out who she is and what she wants to be. It isn't that she doesn't want to stay Amish. But she realizes that she has a short temper, hates housework and babies, and loves driving fast horses. Will she scare off the Amish boys? What will happen to her? 
When Strawberries Bloom: As Lizzie becomes a schoolteacher, even more questions—and a new love—enter her life. She loves running her own classroom and the independence that brings. But her home life is messier. Her sisters have found their soulmates, but Lizzie is still figuring out who Stephen is to her. 
Big Decisions: Lizzie feels as if everything in her life has been leading to this point. Her concerns, dreams, and curiosity have brought her to the edge of some significant decisions. Will she join the church? Will she continue teaching? Does she want to get married, and if so, will she marry Stephen? 
No need to search for the next book in this series or wait for it to be released. Buy this set, and you'll be able to transition seamlessly from one book to the next.
About the Author
---
Linda Byler grew up Amish and is an active member of the Amish church today. She is the author of five bestselling fiction series, all set in the Amish world: Hester Takes Charge, Lancaster Burning, Sadie's Montana, Lizzie Searches for Love, and The Dakota Series. In addition, Byler has written five Christmas romances: The Little Amish Matchmaker, The Christmas Visitor, Mary's Christmas Good-Bye, Becky Meets Her Match, A Dog for Christmas, and A Horse for Elsie. Linda is also well known within the Amish community as a columnist for a weekly Amish newspaper.
Praise For…
---
"A gifted writer." --Publishers Weekly