What You Know About Selling is NOT True (Paperback)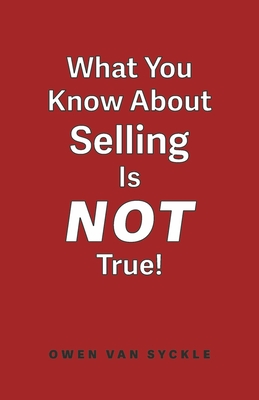 $17.99

Usually Ships in 1-5 Days
Description
---
The #1 key to increase sales is innovation, but you can't innovate if you don't ask the important questions that inspire change. This book is a guide to accelerate your sales and take more market share.

Sales planning is run by people who do not want to be challenged. Is it possible they have been missing something that has been in front of them the whole time? In this book, Van Syckle uses his experiences as a sales professional and entrepreneur to explain WHY everything you know about annual sales planning is wrong.
About the Author
---
Owen Van Syckle is the Founder and President of The Van Syckle Group a sales acceleration firm. The systems and processes he provides combine modification in behaviors and improvements in attitudes to achieve maximum results for sales through training and coaching. Owen has facilitated training and coaching programs designed to foster learning. He provides sales instruction and support that is astonishingly transformational to overall business growth. Their processes and systems are very comprehensive in assessing, hiring, training, coaching, measuring, and retaining high performance sales teams. Owens' experience and supreme dedication as a coach/consultant and trusted advisor, truly leads by his example.