Hot Summer Jams: Pop Songs That Bring Out The Sun, 1975 Through 2005 (Paperback)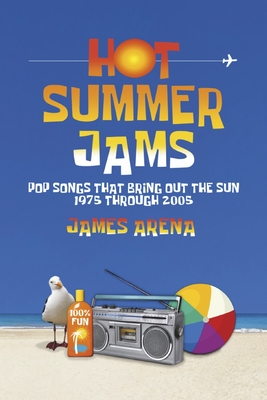 $18.99

Usually Ships in 1-5 Days
Description
---
HOT SUMMER JAMS is all about pop music that celebrates warm weather, getaways to the beach, travel to exotic locations, sex, romance and the joy of fun in the sun. The lyrics and melodies of these songs are a reflection of our passionate connection to the summer season and the art of escaping the everyday. HOT SUMMER JAMS features critiques of over 500 American and international pop songs released between 1975 and 2005. Some directly reference summer themes or suggest travel and tropical paradise. Others were simply so huge on the radio and dance floor that they'll be forever associated with heat waves, palm trees, cool drinks, outdoor concerts and hot nights in the clubs.

Think Walking On Sunshine, Coco Jamboo, Boys Of Summer, Margaritaville, Rock Lobster, La Bamba, Livin' La Vida Loca, Miami, Hot Hot Hot, Good Times, Iko Iko, Summer Nights, Annie I'm Not Your Daddy, Loco In Acapulco, Bamboléo, I Won't Let The Sun Go Down, Bacardi Feeling (Summer Dreamin'), Holiday, Cruel Summer, Vamos A La Playa, The Beach Boys Medley and hundreds more. You'll be instantly transported to a very happy place in the sun! Dance, rock, soul, reggae, Latin, disco, rap, new wave, new age, EDM and other music genres are on the menu.

HOT SUMMER JAMS features commentary from hit-making artists, including Katrina Leskanich and Kimberley Rew of Katrina And The Waves, August Darnell of Kid Creole And The Coconuts, Kate Yanai, Delroy Rennalls of Mr. President, Mark Reilly of Matt Bianco, Taco, DJ Sammy, the founders of Vengaboys and Playahitty, members of Chic, Sister Sledge and more. If you're looking for a ticket to the tropics, you've found it!
About the Author
---
James Arena is a New York-based published author, freelance writer, host and commentator who has been featured on MSNBC, BBC, SiriusXM, Fox, Clear Channel, Sky News (London), CBS radio and other major communications outlets. He has written about the lives and careers of over 250 singers, songwriters, producers, DJs and industry professionals from around the world, and is the author of several published books exploring disco, dance and pop music. James is a G.E.M.A. Foundation and City of Philadelphia honoree for preserving dance music history and recipient of the Legacy Award from New York's Legends of Vinyl organization. He is a former music industry executive with Bertelsmann Entertainment North America.