Appetite for Convenience: How to Sell Perishable Food Direct to Consumers (Hardcover)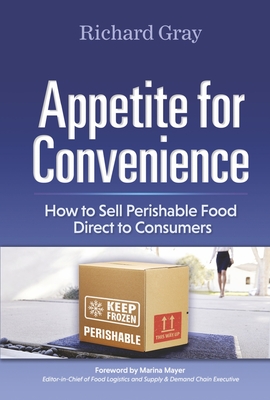 $50.00

Usually Ships in 1-5 Days
Description
---
This book seeks to inform people interested in selling perishable (frozen or refrigerated) foods via the direct-to-consumer (DTC) channel how the process works. This book will not make you an expert from the supply chain to marketing to metrics, but it will provide a solid foundation for how this industry works.
There are many reasons why companies sell DTC. When one considers the alternatives, there are circumstances in which it is the only sales channel that makes sense. These reasons include the following:
•Direct interaction with consumers—no middleman.
•Channel that most benefits the food producer from repeat (subscription) sales.
•Lowest cost of entry.
•Fastest go to market option.
•Least number of decision makers in the sales process. No need for shelf space at a retailer. No need for a distributor and/or broker to take on the product. No need for a sales force to visit large clients.
•Inexpensive means of product testing. The DTC channel is tailor-made for conducting consumer acceptance testing of new products.
•Lower volume/higher margin sales channel. If a business requires high volume to achieve lower costs, DTC may not be an appropriate primary channel.
•Works well with other channels. A company can add DTC sales to an existing distributor to retailer sales program.
•Retailers have limited shelf space. They will cap the number of SKUs they accept for resale or on their menu. There is no similar restriction on SKUs in the DTC environment.
•DTC sales can be hugely scalable. The degree of scalability is a function of multiple factors as discussed throughout the supply chain sections of this book.
•The DTC sales channel is tailor-made for foods unavailable through local markets. These products tend to be unique and appeal to a limited audience. Examples include super-premium meats (wagyu beef), Eastern European frozen meals, and foods with short shelf lives.
This book seeks to address the need for information about this growing sales and distribution channel from people who are either in the food business or want to enter the food business. The DTC channel can serve as a primary or secondary sales channel for food producers.
This book seeks to speak to the following target markets:
•Food start-up executives.
•Management of young, growing food companies seeking to either expand in the DTC space or enter the DTC space.
•Overseas companies looking to enter the US market.
•Growing CPG companies looking to use the DTC channel for product testing, consumer market research, product line extensions, and branding purposes.
•Direct to restaurant/retailer (DTR) businesses looking to diversify their distribution channels. When the pandemic forced many restaurants to close, demand for certain DTC services exceeded capacity driven, in part, by DTR companies seeking places to sell their perishable products.
This book strives to provide information about the many facets of selling and distributing perishable food via the DTC channel. Specific items addressed herein include the following:
•An understanding of DTC supply chain basics. No book can address every question. But we expect whatever questions remain will source from a higher level.
•Why frozen and fresh foods provided through the DTC channel can require different supply chains.
•A firm grasp of the principal supply chain components.
•DTC marketing. How it works. Choices in marketing. Selling through Amazon and other third-party sites.
•The benefits of a multi-channel strategy.
If your company is considering the direct-to-consumer channel for your frozen or refrigerated product for the first time, this book is the primer you will want to read.
About the Author
---
Richard Gray, CEO of Gray Growth Logistics, is a leading strategist in global direct-to-consumer (DTC) marketing and business development. An expert brand marketer across multi-channel environments, he achieves results quickly and within optimized budgets.
Richard is a former entrepreneur who entered consulting nearly 30 years ago. His area of focus includes food, especially frozen and refrigerated foods, and nutraceuticals. His focus allowed him to develop deep expertise in almost every facet of launching, managing, and growing these businesses.
Throughout his consulting career, Richard Gray has advised hundreds of clients ranging from start-ups to foreign companies seeking US market entry to multi-billion-dollar CPG and cold storage companies looking to grow in the DTC marketplace.
His relationships with the industry participants have proven highly valuable to clients. Many Gray Growth clients also engage in the direct-to-retailer (or restaurant) and wholesale channels. Richard maintains a large and growing relationship with 3PLs, co-mans, food brokers, distributors, and freight and delivery providers.
To learn more about Richard Gray and Gray Growth Logistics, please visit www.graygrowth.com. Editor Food Logistics