Contemporary Persian Protest Poetry (Volume 2) (Paperback)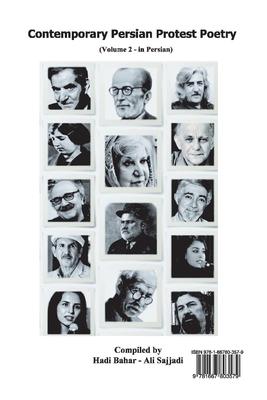 $30.00

Usually Ships in 1-5 Days
Description
---
This book is a compilation of Persian protest poems written in the last century. This collection comprises works that address the socio-political issues of their time, often focusing on government oppression of the people. Such topics can stimulate a reader's interest and empathy, possibly spurring him/her into action. Because of the lack of freedom of speech in Iran and constant fear of censorship, Persian poets use various tools, including rhyme, metaphor and symbolism, in order to bypass the government's censorship.
The following poets are included in this compilation:
Pegah Ahmadi, Mostafa Badkoubeie, Ahmad Bahar, Mohammad Taqi Bahar, Simin Behbahani, Ali Akbar Dehkhoda, Fatemeh Ekhtesari, Parvin Etesami, Forough Farrokhzad, Khosrow Farshidvard, Alamtaj Ghaem-Maghami (Zhaleh), Mahdokht Ghazanfari, Iraj Mirza, Mohammad Jalali, Mirza Jafar Khazen, Esmail Khoie, Bidad Khorasani, Abulghasem Lahouti, Soroush Lashkari, Hossein Monzavi, Fereydoun Moshiri, Nader Naderpour, Nima Youshij, Shapour Rasekh, Houshang Rouhani, Abbas Saffari, Mohammad Hossein Shahriar, Shafie Kadkani, Ahmad Shamlou, Saeed Soltanpour, Hila Sedighi, Anahita Turkaman.
About the Author
---
Dr. Hadi Bahar is a retired internist residing in Potomac Maryland. He has a lifelong interest in Persian literature.Ali Sajjadi is a Washington d.C. based journalist and writer.