Jesus Above School: A Worldview Framework for Navigating the Collision Between the Gospel and Christian Schools (Paperback)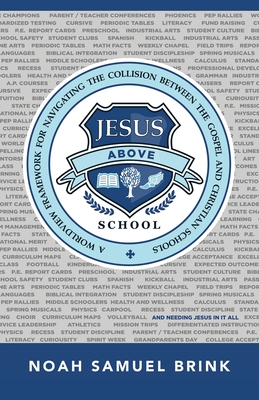 $22.95

Usually Ships in 1-5 Days
Description
---

All of us deeply need Jesus - not only for salvation, but in every area of our lives. This is why the gospel is good news; because there's real hope for real need. Clinging to this conviction, Jesus Above School unpacks and applies the umbrella question, "What difference does the gospel make?" within the Christian school context, even though this will likely put many of our prevailing assumptions at risk.
Jesus Above School provides Christian educators with a clearer understanding of what it means to "do school" in light of a profound commitment to the radical gospel of Jesus. Tragically, many Christian educators are ill-equipped to adequately articulate and apply the implications of a biblical worldview in their thought and practice. As a result, many Christian schools struggle to set themselves apart as truly distinctive because they're not aligned with the wonderfully unique truths of God's gospel. To help, Jesus Above School offers a framework of categories and questions which guide an organized approach to becoming more gospel-centered by shaping both what is taught and the way the school goes about teaching throughout the entire ecosystem of the Christian school culture. These categories are broad enough to recalibrate philosophies and commitments while still being nimble enough to capture the myriad issues facing Christian schools in the day-to-day. "Private Christian schools play a vital role in American Christianity today. However, as Noah Brink observes in this important book, too many schools recognize Jesus in name more than they engage him in the educational process. Brink's use of orthodoxy, orthopraxy, and orthopathy offers a particularly helpful insight into worldview education to help Christian schools do just what the book says: place Jesus above school." Ed Stetzer, Ph.D.
Dean and Professor, Wheaton College "Noah Brink has issued a much-needed clarion call for all Christian schools. In this post-Covid era when many schools are experiencing enrollment growth, it is critical for all Christian educators to thoughtfully align all practices in concert with biblical truth - and we all fall short of that goal. 'What difference does the gospel make' is an ungirding theme in this excellent resource - a must read for all Christian educators for such a time as this. You will be challenged, enlightened, and encouraged." James L. Drexler, Ph.D.
Dean of the Covenant College Graduate School of Education