Concerning Those Who Have Fallen Asleep: Ghost Stories (Paperback)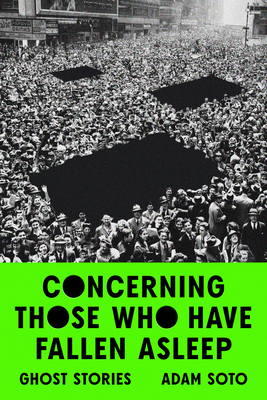 $17.00

Usually Ships in 1-5 Days
Description
---
"Concerning Those Who Have Fallen Asleep is weird in all the best ways possible . . . These tales are plucked from bizarre worlds, from the blood of shadow creatures, from the tears of angels. Let them haunt you." —Gabino Iglesias, author of The Devil Takes You Home

A collection of short stories moving through time and place, exploring the spaces where we haunt each other and ourselves through our choices, our institutions, and our dreams.

Adam Soto, author of the debut novel This Weightless World, which Robin Sloan called "The social novel for the 21st century," returns with Concerning Those Who Have Fallen Asleep.
 
In the title story, a one-armed Harlem Hellfighter goes in search of his specially altered military uniform while Influenza ravages Philadelphia. In "Sleepy Things," a man is bound to the bedside of his comatose girlfriend who haunts his mother's dreams. In "Wren & Riley," a couple travels to Wyoming to visit a childhood friend who killed her abusive husband. And in "The Vegetable Church," a pair of Syrian sisters, refugees of the civil war, find themselves at a crossroads in the home of their European hosts while their dead father whispers to them words of comfort and guidance.

The stories in Concerning Those Who Have Fallen Asleep, strange and unsettling, explore the quiet spaces where the living and the dead alike haunt one another through their choices, dreams, and institutions.
About the Author
---
Adam Soto is the web editor of American Short Fiction. He holds an MFA from the Iowa Writers' Workshop and is a former Michener-Copernicus Foundation Fellow. His debut novel, This Weightless World, was published by Astra House in 2021. He lives with his wife in Austin, Texas, where he is a teacher and a musician.
Praise For…
---
"The stories in Concerning Those Who Have Fallen Asleep are meant to sit with the reader and digest slowly. Throughout the collection Soto draws the reader into the often overlooked transitional spaces of a character's life, and while each story is full and complete, the reader will be left hungry for more as Soto leaves his endings open to the possibility of an unending expansive future."
—Corrine Watson, West Trade Review

"[Soto's] well-drawn characters with their nuanced battles with grief and hope shine brighter. Haunting and complex."
—Kirkus Reviews

"An imaginative and otherworldly collection . . . In these well-crafted stories, Soto evocatively shows how the characters are at turns mystified by inexplicable experiences or haunted by burdensome pasts . . . Readers will be enriched by the way this work thoroughly investigates the human heart."
—Publishers Weekly

"Adam Soto has talent to burn and then some. The stories in Concerning Those Who Have Fallen Asleep are intense, beautifully dense, wonderfully detailed, funny, scary—all this. That rare thing, a thrilling book of stories."
—Peter Orner, author of Maggie Brown & Others and Love and Shame and Love

"Adam Soto is the metaphysical detective for our dissonant era, and every one of these stories is a new type of ghost he shines a light on, in this portable haunted house of a short story collection. An exhilarating ride, to be read throwback-style: chain-smoking under a pale moon, in black and white."
—Fernando A. Flores, author of Tears of the Trufflepig and Valleyesque

"Adam Soto's ghost stories are mostly not literal—but they are haunting. There are so many tricks and feints here that you'll be working through Soto's cleverness days later. In this collection of tightly wound but diversely approached stories, Adam Soto unravels the sloppy, conflicted lives of his characters with precision and polish. Each work—some short, others longer—all find a way to compact the breadth of a novel within constraints of the short story. Concerning Those Who Have Fallen Asleep is less an anthology of stories, but an impressive and thrilling accumulation of small universes."
—Kevin Nguyen, author of New Waves

"Concerning Those Who Have Fallen Asleep is weird in all the best ways possible. These stories show fragments of much larger universes, enticing you with what they give as well as with what they suggest. These tales are plucked from bizarre worlds, from the blood of shadow creatures, from the tears of angels. Let them haunt you."
—Gabino Iglesias, author of The Devil Takes You Home