Slow Cooker Cookbook: 1001 World Class Slow Cooker Recipes with 3-Week Healthy Meal Plan for Smart People on a Budget (Paperback)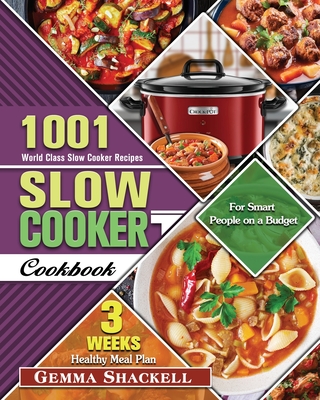 $23.88

Usually Ships in 1-5 Days
Description
---
There's no kitchen appliance we love more than a slow cooker, which is a busy cook's best friend. Thanks to a successful combination of long cooking and circulation of hot steam under the lid, the slow cooker allows the destruction of all bacteria that are potentially harmful to humans. At the same time, it maintains the superb taste and all the useful vitamins.
A slow cooker is a perfect appliance if you prefer hands-off cooking and healthy good-quality meals.
Looking for that special cookbook that will be your wild card for any time? Congratulations You've just found it
In this book, you'll find 550 affordable, quick & easy recipes for beginners on the Slow Cooker. Each recipe includes...
● Affordable ingredients: save money cooking budget friendly recipes.
● Easy to find ingredients: cook with ingredients easily found inside your home.
● Servings: cook the right amount of food for your diet.
● Cooking times: save time in the kitchen.
● 21-day meal plan
● Highly rated recipes: enjoy the most popular keto recipes.
You will find Delicious and Healthy Recipes such as:
●Pork Sweet Potato Stew
●Crockpot Pork Carnitas
●Beef Meatballs Casserole
●Garlic Pork Ribs
●Beef And Red Onions Mix
●Lamb And Mint Pesto
● And more...
Grab this copy and start your journey towards a healthy lifestyle. Let's get cooking