Sovereign Self: Claim Your Inner Joy and Freedom with the Empowering Wisdom of the Vedas, Upanishads, and Bhagavad Gita (Paperback)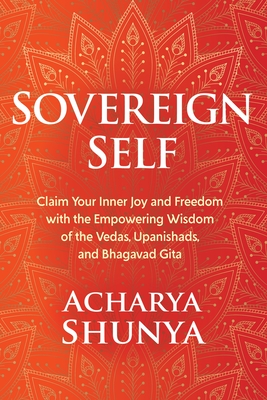 Description
---
Unshackle your mind and claim your spiritual birthright of freedom, wholeness, and joy through the perennial wisdom of ancient yoga

There's a reason that the Vedas, a 5,000-year-old collection of celebrated verses from ancient India, have given rise to several world religions and influenced Western thinkers from Emerson to Ram Dass—they provide us with a uniquely accessible and effective path to liberation and sovereignty.

With Sovereign Self, Acharya Shunya shares a groundbreaking guide to the wisdom of these classic texts so that each of us may emancipate ourselves from restrictive belief systems and discover our true nature—that which is always whole, joyful, and free.

As the first female lineage holder in a 2,000-year-old line of spiritual teachers, Shunya provides a rare opportunity to receive these authentic teachings from a genuine Vedic master—one with a distinctly down-to-earth, feminine flavor who never lets us forget that our humanity is to be embodied and enjoyed.

Throughout Sovereign Self, Shunya adeptly guides us through the core concepts and practices of the Vedas, demystifying and contextualizing sacred concepts for modern life. In this masterful guide, you'll explore:

• Beginning the journey to radical self-acceptance—recognize your innate worth and wholeness
• How we create our own prisons of shame, compulsion, blame, and obsession—and how you can begin to break free
• Learning to embody personal autonomy in your life and relationships
• Clear advice from a Vedic master for avoiding countless obstacles on the path to liberation—from spiritual bypassing to the true meaning of guru
• Original meditations and contemplative practices taken directly from Shunya's 2000-year-old lineage
• How to wake up from being a "sleepwalker" and find authentic freedom, everlasting joy, and unshakable sovereignty

Filled with hidden insights and engaging guidance, Sovereign Self will help you awaken and recognize your potential to be joyful, resourceful, abundant, limitlessly expansive, and sovereign.
About the Author
---
Acharya Shunya is an internationally renowned mystic and a classically trained master of nondual Advaita, Ayurveda, and Yoga. The first female head of her 2,000-year-old Vedic-Hindu spiritual lineage from India, Shunya facilitates authenticity, self-remembrance, and divine feminine pathways to awakening. She is founder of The Awakened Self Foundation with its international headquarters in California, and is the author of Ayurveda Lifestyle Wisdom, Sovereign Self, and Roar Like a Goddess.
Praise For…
---
"With warmth, clarity, wisdom, engaging boldness, and unswerving dedication, Acharya Shunya guides the reader through the mind's maze of maya-illusion straight to the liberating goal of Self-knowledge. This book is soul medicine—read it carefully, study it deeply, apply the practices, and discover its life-transforming promise for yourself. It is a modern treasure trove of Vedic wisdom so necessary and relevant for our times." —Yogacharya Ellen Grace O'Brian, spiritual director of the Center for Spiritual Enlightenment and author of The Jewel of Abundance

"Sovereign Self is a beautifully written and masterful guidebook that eloquently shows us how to recognize and embody our essential wholeness amidst our everyday life. Profound and practical, this seminal work reveals in-depth yogic wisdom teachings and practices we can easily engage to attain our full potential as authentic human beings. Acharya Shunya articulately and persuasively elucidates the timeless teachings that enable us to achieve the fullness of our human capacity. A must-read!" —Richard Miller, PhD, author of iRest Meditation, Yoga Nidra, and The iRest Program for Healing PTSD

"The essence of yoga is Self-knowledge, the realization of our true nature as pure consciousness. Acharya Shunya has shared that core Vedic teaching in a clear and understandable presentation that is accessible to all, reminding us of our real identity, eternal purpose, and the ultimate source of our healing: happiness and harmony." —David Frawley (Vamadeva Shastri), DLitt, Padma Bhushan recipient, author of The Yoga of Consciousness, and director of the American Institute of Vedic Studies

"What depth of wisdom combined with remarkably useful practical advice, and what an honor to learn from a teacher trained and practicing a living spiritual tradition. And, for a change, a master who truly understands the feminine. There are many spiritual guides in the world today—some authentically wise and awakened—but few who embody the wisdom, techniques, and secrets of a tradition developed over centuries by practicing masters. Please enjoy and benefit from this gift from the deepest heart and spirit." —Allan Combs, PhD, author of Consciousness Explained Better, California Institute of Integral Studies professor of consciousness studies, conference director of Consciousness and Spirit II, president emeritus and assistant to the vice president of the Society for Consciousness Studies, and editor of Consciousness

"The highest form of dispersing Vedic wisdom is by example. If you have the privilege of meeting Acharya Shunya, you will experience her heartfelt transmission firsthand, as I have. When you read her book, you will observe that she has found a way to share this ancient wisdom with all true seekers. Highly recommended." —Larry Payne, PhD, C-IAYT, author of AARP's Yoga After 50 for Dummies and founding director of the Yoga Therapy Rx and Yoga After 50/Prime of Life Yoga programs at Loyola Marymount University

"This book is a masterpiece written from the heart by a Vedic scholar, a step-by-step teaching that brought Acharya Shunya from darkness to light, from bondage to freedom. It should be essential reading for every person who is looking for answers to questions arising on their spiritual path." —Dilip Sarkar, MD, FACS, DLitt, faculty member at Vivekananda Yoga University; chairman at the Center for Integrative Medicine and Yoga, Taksha Institute; associate professor of surgery (retired) at Eastern Virginia Medical School; and former president of the board of directors, International Association of Yoga Therapists

"This contemplative gem encapsulates the best of spiritual reflection. Each chapter starts with a pithy quote from a primary text, followed by words from the author's teacher and examples drawn from the insights and experiences of Acharya Shunya and her students. Instructive without being didactic, honest yet never trite, Sovereign Self provides beacons of light and wisdom for every spiritual seeker." —Christopher Key Chapple, doshi professor of indic and comparative theology and director of the Master of Arts in Yoga Studies program at Loyola Marymount University

"The Vedic idea of the sovereign and blissful Self, and the psychic discipline to recover it from oblivion while living our everyday life, is powerfully presented in this book. It is an antidote to the postmodern concept of a fragile and anguished self that lives in mortal fear of choosing between Tweedledee and Tweedledum." —Swami Bodhananda Sarasvati, chairman of the Sambodh Foundation (India) and the Sambodh Society, Inc. (USA)

"The power and beauty of storytelling is such that one can impart complex concepts to a child or a scientist alike. By weaving together basic principles of ancient scriptures, Acharya Shunya leads one to declutter the mind step-by-step and be a witness to attaining the holistic Self. She anchors inner awareness by offering meditation pearls to transition from self-pity, to empathy, to self-freedom. Ultimately, story merges into sadhana to cultivate a lifestyle by sheer daily practice of Patanjali's eternal foundations—personal and societal ethics (yamas and niyamas)." —Matra Raj, OTR/L, C-IAYT, president of the International Association of Yoga Therapists

"Freedom, happiness, and peace are my three highest values—the same values that every human being aspires for. How do you find them? Fortunately, the operating manual is available to us. Humans who have gone before us have thought about this topic and researched it through their own life experiences. They have left behind their learnings in the form of ancient sacred texts and wisdom traditions. But such 'operating manuals' are written in ancient Sanskrit and can be dense and inaccessible. Acharya Shunya has done an excellent job unlocking the wisdom for us in a deftly and lucidly written book, in a language accessible to a global audience today." —Gopi Kallayil, chief evangelist of digital transformation and strategy at Google, author of The Internet to the Inner-net and The Happy Human, and creator of the Kirtan Lounge series

"Acharya Shunya's book arrives in an age when people are thirsting for an authentic path to lead from darkness to light. This very practical, straightforward book is the dip of cool water needed to slake that thirst." —Diane Finlayson, MA, editor of Yoga Therapy Foundations, Tools, and Practice and department chair of the Master of Science in Yoga Therapy program at Maryland University of Integrative Health

"In this elegant offering, Acharya Shunya distills the most ancient of the world's wisdom teachings to their luminous essence. The result is a potent elixir for our times. With a special gift for embodied feminine knowing, Acharya Shunya dissolves the obstacles that have prevented free access to these treasures and invites everyone to the table of liberation and joy." —Mirabai Starr, author of Caravan of No Despair and Wild Mercy

"Sovereign Self is a most welcome addition to the burgeoning shelves of books that apply India's ancient spiritual wisdom to modern life. It is welcome because Acharya Shunya is the real deal. A lineage holder immersed in the tradition from a young age, she is grounded in the full breadth of Vedic wisdom and well acquainted with its depth. She is also a pragmatic teacher, and her book guides us in the everyday application of precepts and practices that will enhance anyone's life regardless of their beliefs or background." —Philip Goldberg, author of American Veda and Spiritual Practice for Crazy Times

"Shunya is a master storyteller, and throughout this book, she relates incidents from her own life with a sensitivity and candor that instantly illuminate the relevance of ancient Vedic wisdom to the modern reader. The chapter in which Shunya movingly relates her childhood confrontation with death is particularly infused with pathos, grace, and the ring of spiritual truth. This book is a radiant gem and must-read for those on the path to growth, transformation, and self-awareness." —Sudha Prathikanti, MD

"Acharya Shunya's fearlessly straightforward yet nurturing voice manages to illustrate our obstacles of ego without an ounce of shame or blame, but rather provides encouragement and the recognition that the struggle is real—indeed, that it is shared. It is rare to find wisdom imparted with such lightness and grace while carrying such mighty weight. I highly recommend this book to anyone seeking to live their best life and awaken to joy." —Heather Shereé Titus, cofounder of Yoga Unify and director of the Sedona Yoga Festival

"Sovereign Self is an integral guide to psycho-spiritual well-being based on the wisdom traditions of India . . . a concise compendium of yoga for well-being." —Debashish Banerji, Haridas Chaudhuri Professor of Indian Philosophies and Cultures and doshi professor of Asian art; program chair for the East–West Psychology Department at the California Institute of Integral Studies