All My Cross Stitch Shit: Cross Stitchers Journal DIY Crafters Hobbyists Pattern Lovers Collectibles Gift For Crafters (Paperback)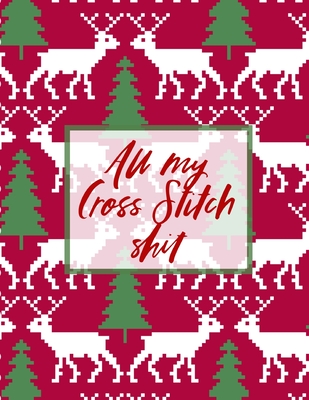 $19.99

Usually Ships in 1-5 Days
Description
---
Cross Stitch Notebook
For Pattern Lovers and Crafters Everywhere
8.5X11 inches
112 pages
If you are a person who loves arts and have an artistic hand then this cross stitch planning book is perfect for you. A cross stitch journal is a book that provides some planning and this crafter's notebook has all the necessary graphs, forms and pages for brainstorming ideas for all your DIY needlework projects.
How To Use This Book:
The purpose of this book is to keep all your Cross Stitching plans and ideas organized in one easy to find spot. Here are some simple guidelines to follow so you can make the most of using this book:
Use the fill in the blank prompt pages in this planner to help navigate your way to your next DIY cross stitching project ideas and goals. This will make it easy for you to keep everything organized
The first "Time Log" section is for you to be able to track your time spent on any given project so goals can be easily seen.
Most ideas are inspired by something we have seen. Use the "WIP Photos" section to
Visually track and keep track of each part of your project.
The "Threaded Bobbin" section is for you to detail out a description of your pattern, color number and chart symbols. Don't worry, there will be more space for you to go in-depth with space for notes.
Some information that you love to remember, are the "Stitchin' Friends Directory" is great for that. You will see the names, addresses and favorite places to shop and be able to make notes about
Flip the page over and this is where your "Stitching Supplies Shopping List" begins.
Write down the action steps you need to complete your "Thread Inventory" list that names every thread item brand, color and how much you have of it.
The "Work In Progress" section is so you can visually track your goals and be inspired later after you finished
Use The "Pattern and Kit Inventory" section to find the perfect pattern, designer, purchased from, date and price.
And finally pages with your "Graph Paper For Needlework" is for you to plot out your new DIY project, brainstorm and watch your designs unfold...
Have fun