How to Eat to Beat Disease Cookbook: 75 Healthy Recipes to Protect Your Well-Being (Paperback)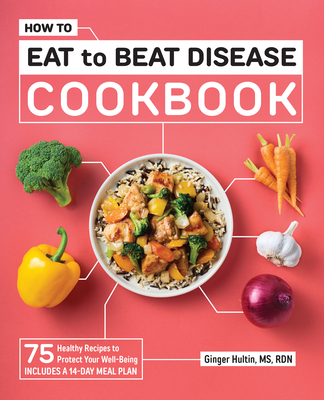 $19.99
Email or call for price
Description
---
Bolster your body's natural defense systems through diet with this complete guide and cookbook
Your body has powerful systems in place to keep you healthy and prevent disease, and the foods you eat can help those systems function at their best. The
How to Eat to Beat Disease Cookbook
offers a complete overview of the popular Eat to Beat Disease program by Dr. William Li and provides a meal plan and 75 delicious recipes to help you implement the program.
How to Eat to Beat Disease Cookbook
includes:
Bioactive recipes—Each recipe has at least three bioactive (or health-promoting) ingredients, from fresh produce to herbs and spices, so you can maximize the benefits of every meal.
A 14-day meal plan—Easily adopt the Eat to Beat Disease program with two weeks of pre-planned meals and grocery shopping lists to help you get started on the right foot.
An intro to the body's defense systems—Learn about the body's five major disease-fighting systems (angiogenesis, cell regeneration, microbiome health, DNA protection, and the immune system), how they work, and how food supports them.
Recipe tips and tricks—Find variation suggestions with most recipes so you can make the dishes even healthier and adjust them to suit every taste and dietary preference.
Help your body heal and protect itself with the practical guidance in
How to Eat to Beat Disease Cookbook
.
About the Author
---
GINGER HULTIN, MS, RDN, CSO, is a registered dietitian nutritionist and owner of Seattle-based virtual nutrition practice Champagne Nutrition. A health writer and experienced speaker, she presents to people around the country and the world and serves as president of the board of the Greater Seattle Dietetic Association.
Praise For…
---
"This cookbook is a brilliant culmination of Ginger Hultin's expert nutrition advice blended with a rich and colorful array of inventive recipes. A must-have for anyone seeking to easily improve the diversity and quality of their diet without the complicated fuss of strict diet plans." —Chris Vogliano MS, RDN, co-founder of Food + Planet

"Not only is this stellar cookbook filled with scientifically sound explanations around food-as-medicine concepts, but it also provides an array of stunning and mouthwatering recipes that would inspire anyone to rush into the kitchen and start meal prepping and cooking. Expert Dietitian Ginger Hultin has created a true gift of health for those of us seeking to prevent and address disease with diet while still enjoying many favorite foods." —Mary Purdy, MS, RDN, integrative eco-dietitian, host of The Nutrition Show podcast and author of The Microbiome Diet Reset

"With an unbeatable combination of mouthwatering recipes and sound nutrition science, registered dietitian nutritionist Ginger Hultin makes healthy eating accessible and enjoyable for all. No matter your dietary preferences, Ginger provides new and creative ways to fuel up on health-promoting foods without sacrificing flavor or joy at mealtimes. The How to Eat to Beat Disease Cookbook is a must-read for anyone who wants to support optimal health with great-tasting whole foods!" —Stephanie McKercher, MS, RDN, creator of Grateful Grazer and author of The College Vegetarian Cookbook

"As a registered dietitian nutritionist, Ginger breaks down the science into small, bite-sized chunks so readers can understand the foundations of good health and nutrition. The information is presented in such an accessible way that everyone at any age can read her book and get something beneficial from it. I love how simple and easy the recipes and meal plans are. One of my favorite parts of the book was the food chart, which listed how each specific food applies to the 5x5x5 principle." —Dr. Melissa Prest, DCN, RDN