Camping with Kids Cookbook: Fun and Easy Recipes for the Whole Family (Paperback)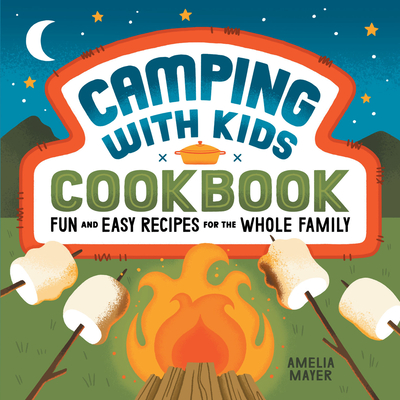 $12.99

Usually Ships in 1-5 Days
Description
---
Savor every minute outdoors together with family camping meals
Camping is the perfect way to introduce kids to the beauty of nature—and connect the whole family over a shared meal under the stars. Introduce children to the joys of cooking and eating outdoors with this camp cookbook. It's packed with recipes for simple meals that they can help prepare and the whole group will enjoy. Hearty ingredients keep everyone's energy up for days of adventure—and evenings of passing treats around the campfire.
Kid-friendly fare—Cook up nutritious dishes for any meal, along with twists on traditional campfire cooking like s'mores and roasted hot dogs.
Outdoor activities—Explore fun camping games for kids ages 6 to 12, perfect for when they're waiting for dinner to finish cooking.
Multiple cooking methods—Find recipes for the method that's most convenient: a dutch oven or skillet; a camp stove, fire, or coals; or even no heat at all.
Tips for the trip—Find advice for successful car camping with kids, along with important safety measures, food prep guidance, and easy ways to get little ones involved.
Fuel outdoor fun with this family-friendly camping cookbook.
About the Author
---
Amelia Mayer finds her sanity outdoors where the fresh air seems to dull any whining and lets everyone breathe just a little easier. She loves to cook and does her best to spruce up camping dining with delicious meals, from camp-gourmet to hot dogs. Find her at TalesofaMountainMama.com and follow her on Instagram @mtnmamatales.
Praise For…
---
"Since having kids, I've followed Amelia for her tips and tricks for camping with kids. She's so knowledgeable and has really outdone herself with this children's camping cookbook. I've struggled to find a good camping cookbook for my kids who love to cook. We've tried several recipes already and this one, hands-down, is the best camping cookbook for kids. I would recommend this cookbook for any family that loves camping." —Pauline Reynolds-Nuttall, creator and writer behind Mama Bear Outdoors and author of 5-Ingredient Camping Cookbook and Cast-Iron Camping Cookbook

"Part camping guidebook, part camping cookbook, Amelia provides tips and tricks to make camping with kids go smoothly. The recipes, such as Breakfast on a Stick and Grilled Individual Macaroni and Cheese, will leave you excited to make creative camping meals that the whole family will enjoy." —Audrey Withycombe, outdoorsyfamilies.com

"Camping with the kids doesn't have to be stressful when campers use this cookbook. Skilled outdoor mom of five, Amelia Mayer, knows how to keep campers happy and full. She simplifies everything from packing and meal planning to cooking onsite in this book so you can focus on the fun. Every camper who wants to have fun outdoors while feeding their family at the same time needs this book." —Nicky Omohundro, founder of Little Family Adventure, littlefamilyadventure.com

"Amelia's latest addition to the camping world is a cookbook full of easy, scrumptious, family-friendly recipes to prep ahead or make while camping. For busy parents, this is a must-have to liven up your outdoor cooking game!" —Karilyn Owen, parent and outdoor adventurer from No Back Home

"This book is amazing and will only make your family camping experience better. I was blown away by the number and variety of recipes included here. As a mom of a big family, I loved that many of the recipes could be made by the kids without too much help from me. The author also includes general camping advice to make the trip run even smoother!" —Jessica Averett, creator of bring-the-kids.com and kidscampingtips.com