Your Coping Skills Aren't Working: How to Break Free from the Habits That Once Helped You But Now Hold You Back (Paperback)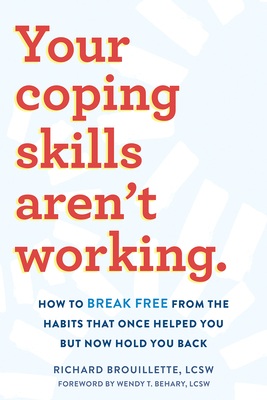 $18.95

Coming Soon - Available for Pre-Order Now
Description
---
It's time to move beyond the self-destructive coping "skills" that hold you back
The coping styles we develop in childhood are often the result of stressful or traumatic experiences. And while they once worked to keep us feeling safe, they do not serve us well in adulthood. This breakthrough guide offers an innovative and evidence-based approach grounded in cognitive behavioral therapy (CBT), schema therapy, and attachment theory to help you break free from the coping habits that keep you stuck in a cycle of self-sabotaging negative thoughts and behaviors.
In this eye-opening book, you'll identify the maladaptive coping patterns you developed in childhood, understand why you developed them, and learn how to change those destructive habits standing between you and a happier life. You'll also discover powerful strategies to help you give voice to your unmet needs; and learn to cultivate clarity, security, and confidence in yourself and what you need.
Dysfunctional coping styles are often the relics of damaging childhood experiences. But your past doesn't need to dictate your future. With this guide, you can finally get unstuck from the habits that hinder your personal growth, get in the way of healthy relationships, and keep you from reaching your highest potential.
About the Author
---
Richard Brouillette, LCSW, is a certified schema therapist working with entrepreneurs, creatives, and activists who have plateaued and are trying to overcome anxiety, find fulfillment, and improve relationships. Brouillette has published in The New York Times, Salon, and PsychCentral. He is the Psychology Today expert opinion blogger of Flipping Out: Changing Mindsets with Schema Therapy. In 2020, Brouillette was elected executive board secretary of the International Society for Schema Therapy.