The Great American Trivia Quiz Book: An All-American Trivia Book to Test Your General Knowledge! (Paperback)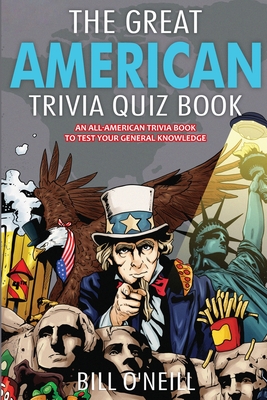 $11.95

Usually Ships in 1-5 Days
Description
---
The United States, home to 329 million people living in 50 states, has a rich history made up of so much more than just its presidents and wars.
Introducing
The Great American Trivia Quiz Book: An All-American Trivia Book to Test Your General Knowledge
A fun book created for you to impress your friends and family and win every trivia game
In this incredible trivia book, you will learn:
- What is Area 51?- What presidential ghost haunts the White House?- Who is the youngest quarterback in NFL history to ever win a Super Bowl? - Where does the code from The Matrix come from?- Who was the President of the United States during World War I?
Each chapter of
The Great American Trivia Quiz Book
contains a quiz, an answer key, and a curiosities section filled with entertaining and random facts.
This book will test your trivia knowledge about the United States and teach you tons of fun new facts. From baseball and the blues to Hollywood, there are many interesting things that are uniquely American.
There is always so much more to learn