X-Teams, Updated Edition, with a New Preface: How to Build Teams That Lead, Innovate, and Succeed (Hardcover)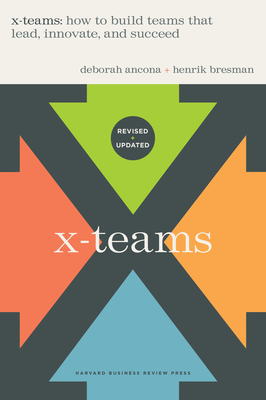 Description
---
A classic work on teams and collaboration--now updated with a new preface--shows how an externally focused team model is the key to fueling innovation and your organization's success.
You build a team around top-notch talent. The team members work well together; they're committed to the mission and highly motivated to perform. Yet the results are disappointing. You're not seeing creativity and flexibility. You're not getting breakthrough ideas.
"Good" teams build camaraderie, confidence in their abilities, and a solid process for working together. But these internal dynamics--while positive in themselves--can create a wall between the team and the outside world. And that wall can prevent the team from adapting to change and delivering value to the organization.
In this updated edition with a new preface and new research, Deborah Ancona and Henrik Bresman describe an externally focused team model--the X-team--that is even more relevant today than when it was first introduced. With their distinctively flexible membership and leadership structure, X-teams continuously reach outward to fuel the innovation process.
With new examples and research from organizations such as Microsoft, Takeda, and the Museum of Modern Art, Ancona and Bresman show you how to build X-teams that:
Keep pace with shifts in markets, technologies, cultures, and your competition
Innovate by moving quickly from generating ideas to executing and diffusing them throughout your organization
Employ "distributed leadership" to unlock crucial information, expertise, and new ways of working together--wherever these qualities reside within or outside your company
In an increasingly complex and ever-changing world, where adaptability and creativity are paramount to an enterprise's success--and even its survival--X-Teams is your handbook for winning.
About the Author
---
Deborah Ancona is the Seley Distinguished Professor of Management at MIT's Sloan School of Management and the founder and former faculty director of the MIT Leadership Center. Henrik Bresman is an associate professor of organizational behavior at INSEAD and the former faculty director of the INSEAD Global Leadership Centre. He received his PhD from the Massachusetts Institute of Technology.Connect with Henrik Bresman on Twitter: @HenrikBresman and LinkedIn: linkedin.com/henrik-bresman.