Fool Me Once: Scams, Stories, and Secrets from the Trillion-Dollar Fraud Industry (Hardcover)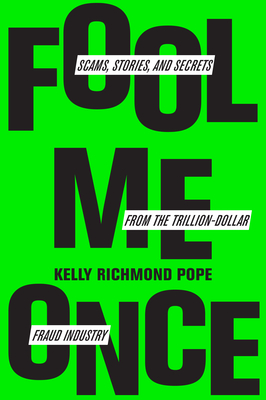 $30.00

Usually Ships in 1-5 Days
Description
---
A riveting look at the perpetrators, victims, and whistleblowers behind financial crimes, from forensic accounting expert and documentarian Kelly Richmond Pope.
Have you ever wondered why Bernie Madoff thought he could brazenly steal his clients' money? Or why investors were so easily duped by Elizabeth Holmes? Or how courageous people like Jeffrey Wigand are willing to become whistleblowers and put their careers on the line?
Fraud is everywhere, from Nigerian "princes," embezzlers, and Ponzi schemers to corporate giants like Enron and Volkswagen. And fraud is costly. Each year, consumers, small businesses, governments, and corporations lose trillions of dollars to financial crime.
We're so accustomed to hearing about fraud that our abilities to identify it and speak about it are limited.
No more. In Fool Me Once, renowned forensic accounting expert Kelly Richmond Pope shows fraud in action, uncovering what makes perps tick, victims so gullible, and whistleblowers so morally righteous, while also encouraging us to look at our own behaviors and motivations in the hope of protecting ourselves and our companies.
By the time you finish this book, you'll have a better understanding of--and perhaps even compassion for--perpetrators, a renewed connection to victims, and an appreciation for those who blow the whistle.
Filled with fascinating stories and insightful analysis, Fool Me Once will open your eyes and challenge your thinking. It will inspire you to question your own preconceived notions about fraud. It will challenge your beliefs about yourself and other people. And it will help you understand a phenomenon that most of us fail to grasp--until it's too late.
About the Author
---
Kelly Richmond Pope is the Barry Jay Epstein Endowed Professor of Forensic Accounting at DePaul University in Chicago. Pope's research on executive misconduct culminated in directing and producing the award-winning documentary, All the Queen's Horses, which explores the largest municipal fraud in US history. In 2020 the American Institute of Certified Public Accountants (AICPA) and CPA Practice Advisor named Pope as one of the twenty-five Most Powerful Women in Accounting.Connect with Kelly Richmond Pope at kellyrichmondpope.com.