Anti Inflammatory Diet: 77 Delicious Recipes with an Easy Guide for a Pain Free, Clean and Healthy Feeling (Hardcover)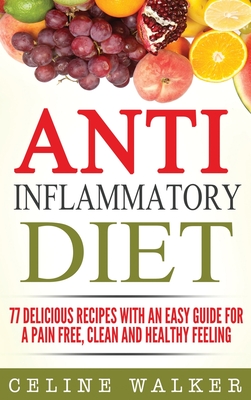 $24.99

Usually Ships in 1-5 Days
Description
---
77 Delicious and Nutrient-Rich Recipes with an Easy Guide
This book contains 77 recipes for delicious, healthy and anti-inflammatory meals.
In the Anti Inflammatory Diet, sugar is banned because it feeds the inflammation-causing bacteria and yeast in your body. Trans fats, such as shortening, hydrogenated oils and margarine are also cut out. Other food categories that you should avoid are refined carbohydrates, alcoholic and caffeinated food and beverages, dairy products, processed oils, red meat, processed meat and artificial sweeteners.
On the other hand, it is a diet that is all about sourcing carbohydrates and protein from plant-based foods because these contain phytonutrients that are responsible for reducing inflammation and promoting healthy cellular growth. Unsaturated fat and omega-3 fatty acids from nuts, seeds, avocado and wild-caught oily fish are also part of the diet.
Now, it may seem as if you have limited food options when it comes to following the Anti Inflammatory Diet. However, this cookbook is here to show you that you can prepare various delicious meals despite these restrictions. In this book, you will find recipes for breakfast, snacks, soups and stews, main dishes, side dishes and even desserts that are guaranteed as anti-inflammatory. With these recipes, you can create several weeks' worth of meal plans for you and your family.
Within this book's pages, you'll find that the 77 recipes include:
Breakfast
Snacks
Soups and Stews
Main Dishes
Side Dishes
Scroll to the top and select the "Add to Cart" button before the price increases