Learn Spanish: A Comprehensive Guide to Learning Spanish for Beginners, Including Grammar and 2500 Popular Phrases (Paperback)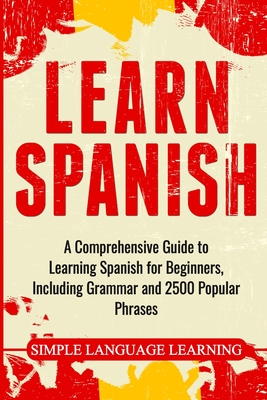 $29.97

Usually Ships in 1-5 Days
Description
---
If you're looking to learn Spanish fast without having to go through boring textbooks, then keep reading...
Two manuscripts in one book:
Spanish: Learn Spanish for Beginners: A Simple Guide that Will Help You on Your Language Learning Journey
Spanish Phrase Book: 2500 Super Helpful Phrases and Words You'll Want for Your Trip to Spain or South America
Are you a beginner to Spanish who wants to learn the language in a fast and simple way?

Have you tried learning Spanish through classical grammar lessons or a Spanish app teaching you stuff you will never use in real life?

Do you finally want to say goodbye to scratching your head in confusion when you're trying to learn Spanish?

If so, then make yourself at home.

You see, we don't believe that you have to struggle to learn Spanish.

In part 1 of Learn Spanish: A Comprehensive Guide to Learning Spanish for Beginners, Including Grammar and 2500 Popular Phrases, you will start from scratch and work your way from zero to fluent in 33 lessons where you will learn the basics of everyday Spanish--the real stuff that you will need when you go on a trip to South America or Spain.

There will be some grammar rules, but nothing boring and hard to memorize. The rules are threaded throughout the lessons to make it light and fun. You will move forward with real-life dialogues, stories, and practical examples that will make things easier and more entertaining.

Some of the topics covered in part 2 of this book include:
Pronunciation
Basic Vocabulary
Questions and Answers
Pronouns
Prepositions
Basic Verbs
Abstract Nouns
Everyday Objects
Adjectives I: Qualities
Adjectives II: Quantities
Adverbs
Conjunctions and Relative Pronouns
Possessives
Indefinite Pronouns
Matter
Space
Space
Actions
Time
Date and Time
Days of the Week, Months, Seasons
Numbers
People
Body
Family and Friends
Love
Feelings
Traveling
Food
Measurement and Shapes
Art
Colors
Music
Money
Shopping
Communication
Reading and Writing
Reading and Writing
Work
Free Time
Nature
Geography
The City
Society, Culture, and Economy
Technology
And Much, Much More
So if you want to avoid missing out on an amazing experience when traveling to Spain or any other Spanish speaking country, click "add to cart"