Russian Short Stories: 11 Simple Stories for Beginners Who Want to Learn Russian in Less Time While Also Having Fun (Hardcover)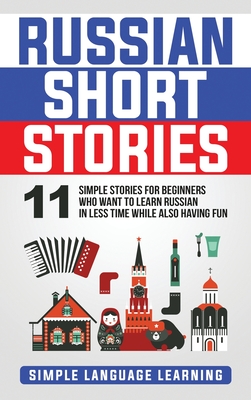 $29.99

Usually Ships in 1-5 Days
Description
---
If you want to learn Russian in less time while also enjoying yourself, then keep reading...
The experience of reading a story allows us to escape our lives for a moment, and so this is a perfect way to start learning a language. Reading a story activates your brain and imagination, thus increasing the chance to learn easily and not quit.
Often, people start learning a new language only to give up after a couple of weeks.
This is not due to the complexity of the language but because they become disheartened as the method they are using does not give the right motivation. This is much less likely to happen if your tool is short stories

In Russian Short Stories: 11 Simple Stories for Beginners Who Want to Learn Russian in Less Time While Also Having Fun, you will encounter rich and new but not too complex vocabulary, which is translated at the end of the chapter, avoiding the hassle of having to stop the reading rhythm to look up every word in the dictionary. Every paragraph is translated, as well as the summary of the story, thus providing a clearer comprehension of each sentence, while trying to prevent the temptation that the reader might have, if discouraged, of giving up and reading the whole story in English.
After each chapter, there is a question section, which aims to test the reader's overall understanding of the story, containing both open-ended and multiple-choice questions. The solved questions are provided at the end, enabling you to check your own answers and, consequently, develop your skills.
So if you want to learn Russian while having fun, scroll up and click the "add to cart" button