Bright Lights, Prairie Dust: Reflections on Life, Loss, and Love from Little House's Ma (Paperback)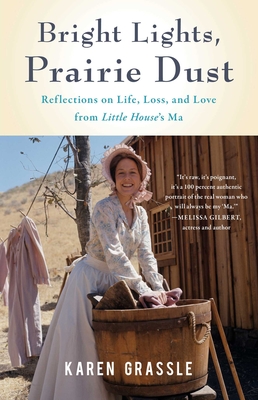 Signed and personalized copies available! PLEASE READ BELOW LETTER FROM KAREN GRASSLE
A Letter from Karen Grassle
Dear Friends,
I've been so humbled by the response to my new memoir, Bright Lights, Prairie Dust. Thanks to every single person who's preordered my book. Thank you. One thing I couldn't have anticipated would be that there would be so many preorders that we wouldn't be able to keep up with the inventory, or that before my publication date we would be reprinting books!
While I'm delighted, this means that some customers who purchased my book from Book Passage will kindly need to wait until January to receive their books. The second printing is underway, but due to the current situation with supply-chain issues, the usual six-week turnaround will be nearly ten weeks. I am so sorry. My publisher is partnering with Book Passage to fulfill the orders as quickly as we all can, and we all appreciate you wanting the book and supporting independent publishing and bookstores.
I hope that you'll find the book is worth the wait.
In gratitude,
Karen Grassle (est. delivery Jan. 2022)
Description
---
Growing up in a loving but alcoholic home by the Pacific, Karen Grassle--the curious and optimistic little girl who would grow up to become the beloved actress from Little House on the Prairie--seeks comfort at her local Baptist church, in dance, and in friendship. Finding herself wholly at home on the stage, she pursues acting with all her heart. As a young woman, leaving lovers behind, she wins a Fulbright to study in London. There, she revels in the excellence of the theatre and the stimulating travel; only occasionally, she is baffled when brought low by a night of drinking.
After coming back to the US and making her home in New York, a sweet marriage goes off the rails, work is sporadic, and poverty looms. Nightmares drive Karen to deal with her demons, and she gets hope. She lands exciting roles and a new love.
Cast as "Ma," it seems she will have it all: love and acting in a big, new life. But her moods fluctuate wildly as the pressures of success increase along with her drinking. She is advocating for women when it all comes apart. In this raw, emotional memoir, Karen recounts with surprising candor and humor how she ultimately faced her own alcoholism and found her way home.