World's Greatest Dad Jokes: Clean & Corny Knee-Slappers for the Family (Paperback)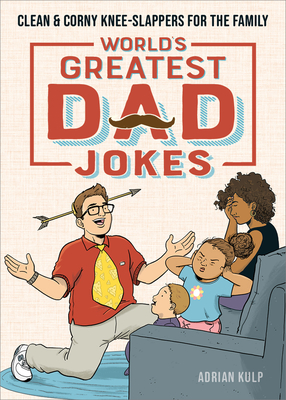 $10.99

Usually Ships in 1-5 Days
Description
---
600+ squeaky-clean jokes for the whole family!
This huge collection of side-splitting dad jokes will keep your family and friends giggling for hours. Even reluctant readers are sure to laugh along to these family-safe jokes on long car rides, family vacations, and around the house. Be sure to check out a bonus riddle section to stump those you love most!
Jokes galore—The pages are packed with hundreds of wonderfully lame jokes, including pitifully corny puns, knee-slappin' knock-knocks, mic drop one-liners, and so much more.
Colorful illustrations—Engaging illustrations make reading fun for any audience from 8 to 108.
Giftable fun—A collection of clean dad jokes make this the perfect present for any dad or dude.
Keep your family cracking up with this dad jokes book!
About the Author
---
Adrian Kulp is the author of We're Pregnant! The First-Time Dad's Pregnancy Handbook as well as We're Parents! The New Dad's Guide to Baby's First Year. He's also the voice behind the blog Dad or Alive: Confessions of an Unexpected Stay-at-Home Dad.
Praise For…
---
"As a stand-up comedian, it's tough to trust 'civilians' for feedback on your comedy. But Adrian is what I call a 'Secret Stand-Up.' He's always wanted to get on stage and is funny enough to do it, but as an author, producer and father of 4, it just wasn't in the cards. You can see there just wasn't the time for it. But I always trusted his gut when it came to comedy, and this book is a solid representation of how far his comedic sensibilities reach. It's filled with great jokes for kids of all ages and adults too. I always trusted my jokes with Adrian, so it's no surprise I would recommend a collection of jokes that he's put together for you!" —Jay Larson, Writer, Comedian

"I started doing stand-up because I loved laughing with my dad! I wish I had had this book growing up, a perfect collection of jokes old and new—for people of all ages—because my father and I would have been laughing together all the time!" —Wendy Liebman, Comedian

"This is the perfect book for me as a dad and a stand-up comic. The reasoning is this: my jokes are absolutely inappropriate for children of all ages, family members, and most mentally healthy civilians. My two young kids are finally at an age where they understand what dad does for a living. They're constantly asking me to tell them a joke and now thanks to Adrian Kulp I can. This book is written by a great friend (and an even better dad) who I've had the pleasure of knowing for years in the comedy world. This is a perfect book for dads, and the jokes aren't just okay, they're not even good or great... they are the GREATEST!" —Steve Byrne, Comedian, Filmmaker