The Easy 5-Ingredient Acid Reflux Cookbook: Fuss-free Recipes for Relief from GERD and LPR (Paperback)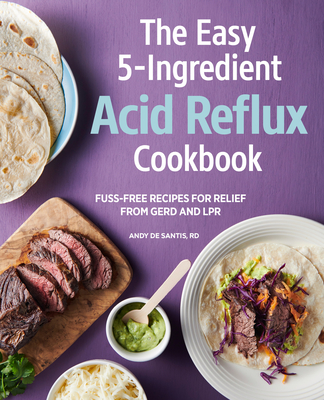 $16.99

Usually Ships in 1-5 Days
Description
---
A fresh and quick approach to help manage GERD
Discover a tasty and fuss-free solution to relieving Gastroesophageal Reflux Disease (GERD). This easy acid reflux cookbook offers a nutritionally sound approach to preventing, managing, and fighting back against the symptoms of GERD. Change the way you think about eating with 100 simple, delicious limited-ingredient recipes, and learn to manage reflux symptoms with a practical, long-term approach that includes food guidelines.
This standout among acid reflux cookbooks includes:
A full range of recipes—From Pumpkin Pancakes to Skirt Steak with Blackberry Thyme Sauce, find delicious, GERD-friendly recipes that are sure to satisfy.
Cooking made simple—Keep things simple as you choose from 100 5-ingredient dishes that are easy to make and use commonly found ingredients.
Daily eating advice—Get a handy list that summarizes foods that you can eat with gusto and those you should minimize to soothe your discomfort.
If you suffer from GERD, try this path to relief through easy, healing recipes.
About the Author
---
ANDY DE SANTIS, RD, MPH, is a registered dietitian from Toronto, Canada. He operates a private practice that focuses on customized nutrition solutions and healthy eating. Learn more at AndytheRD.com.
Praise For…
---
"The Easy 5-Ingredient Acid Reflux Cookbook is a valuable resource for those looking to help manage acid reflux symptoms and gastroesophageal reflux disease (GERD). Inside this book you will find a wealth of information and recommendations for implementing a nutritious diet that not only supports digestive health but overall health. With 100 simple and wholesome 5-ingredient recipes like sweet potato hash browns, avocado deviled eggs, and cream of asparagus soup, I'm certain you'll be satisfied (in more ways than one)!" —Chef Julie Andrews, MS, RDN, CD, www.thegourmetRD.com

"The Easy 5-Ingredient Acid Reflux Cookbook is great! Finally, theory comes easily to practice with Andy's delicious and simple recipes to follow. A must-have for any acid reflux sufferer who wishes to take charge of their condition. From pantry staples to have to common triggers to minimize, this book has it all!" —Marie-Maxime Bergeron RD, Registered Dietitian

"If you suffer from acid reflux then you must buy this book; it's a no-brainer! Andy De Santis is a health professional and culinary whiz. This acid reflux recipe book and guide is your one-stop-shop for all reflux health and gastronomic needs." —Joel Feren, Dietitian, Nutrition Consultant, www.thenutritionguy.com.au