Play Therapy Activities: 101 Play-Based Exercises to Improve Behavior and Strengthen the Parent-Child Connection (Paperback)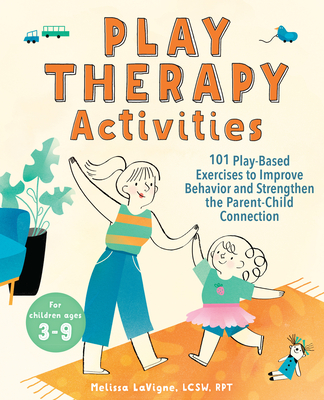 $15.99

Usually Ships in 1-5 Days
Description
---
Harness the power of play—101 creative ways for you and your child to bond, have fun, and so much more!
What's the best way for children to relate to the world around them? Play! In this book, you'll find a collection of joyful activities that allow parents of children ages 3 to 9 to unlock the therapeutic benefits of play.
From strengthening your bond to decreasing their screen dependency,
Play Therapy Activities
offers a variety of simple exercises that can help improve your child's behavior, impulse control, self-awareness, and more. New to the idea of play therapy? This parent-friendly guide offers a comprehensive overview of the practice, as well as advice for making sure you and your child get the most out of your experiences together.
Play Therapy Activities
provides:
Open the play therapy toolbox—Discover how you can help your child hone certain skills and behaviors with arts and crafts, relaxation and breathing activities, and more.
101 Fun activities—Whether it's dancing, creating stories, or playing outside, discover on- and off-the-page activities (and tips!) for any number of occasions and moods.
Play therapy revealed—Find out how and why play therapy is so effective, as well as the ways in which these activities can supplement actual play therapy.
Bring fun and skill-building games home with
Play Therapy Activities
.
About the Author
---
MELISSA LaVIGNE, LCSW, RPT is a licensed clinical social worker, a registered play therapist, and yoga teacher. She has spent her career honing specialized skills in play therapy and trauma treatment, and she is passionate about sharing these tools with the world. In addition, Melissa is a faculty member, trainer, and yoga teacher for Yogis in Service, a nonprofit that brings trauma-informed yoga and mindfulness tools to individuals all over the Buffalo, New York, area.
Praise For…
---
"Play Therapy Activities is an amazing resource for therapists, parents, or anyone looking to incorporate engaging, play therapy activities for children ages 3-9. Rooted in her comprehensive education and experience, Melissa LaVigne offers readers a diverse selection of play therapy activities ranging from breathing activities to challenging, interactive games. As an early childhood educator, this book offers teachers a unique approach to incorporating much-needed play back into the classroom. This book will undoubtedly be a wonderful resource for so many!" —Lindsay Kennedy, M.S., Elementary Curriculum Coach

"As a child therapist I have often wished I could hand parents a book that would not only clarify how play enhances the therapeutic process with children but could also lead to more enjoyment and satisfaction in their lives together at home. With many pages of easy activities to build the parent-child bond, this is the book I will reach for in the future to help parents explore the power of play to help them to communicate with, enjoy, and teach their children. Well done!" —Ann Beckley-Forest, Licensed Clinical Social Worker and Registered Play Therapy Supervisor

"Children need to be seen, heard, and feel connected. Many of us know this, and yet we do not know what to do. Melissa LaVigne has created a book that is all about being in the moment, experiencing and being with children exactly as they are. Her activities create opportunities in which grown-ups truly see and hear children in supportive, playful, and creative ways. Each activity offers a present moment experience within which a child can feel truly connected with someone prepared to spend therapeutic time with them. My university students in my counseling with children course as well as the children with whom they work are going to love this book. I can't wait to share it with them!" —Catherine Cook-Cottone, PhD, Licensed Psychologist and Professor