Star Wars: Galactic Baking Gift Set: The Official Cookbook of Sweet and Savory Treats From Tatooine, Hoth, and Beyond (Mixed media product)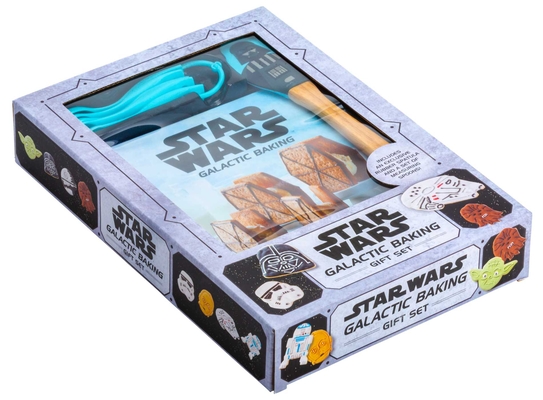 $35.00

Usually Ships in 1-5 Days
Description
---
Embark on a baking journey through the Star Wars galaxy, and craft scrumptious treats inspired by fan-favorite planets. Includes an exclusive rubber spatula and measuring spoon set!

Get ready to tour the galaxy with this baking cookbook gift set inspired by the snowdrifts of Hoth, the wastelands of Tatooine, and beyond. Star Wars: Galactic Baking is the most delicious way to experience the planets, flora, and fauna of the Star Wars galaxy. Whether you're throwing a watch party or hosting members of the Galactic Senate, this cookbook is a must-have for fans of all ages.

• BRING STAR WARS INTO YOUR KITCHEN: Featuring an exclusive rubber spatula and measuring spoons, this gift set is a great value for fans who want to celebrate their Star Wars fandom while baking delicious treats.

• OVER 30 MOUTHWATERING RECIPES: Star Wars: Galactic Baking features recipes such as Mustafarian Molten Lava Cakes, Cloud City Marshmallows, Life Day Cake, Loth-Cat Kibble, Keshian Spice Bread, Dagobah Bog Pie, and more.

• BAKE YOUR WAY THROUGH THE GALAXY: Packed with dazzling food photography that's sure to inspire your inner chef, this cookbook transports you to planets such as Kashyyyk, Jakku, Endor, Bespin, Coruscant, and everywhere in between.

• FOR ALL SKILL LEVELS: All types of bakers—from Padawans to Jedi Masters—will enjoy tempting recipes based on the Star Wars galaxy, from the Skywalker Saga to Star Wars Rebels.

• OWN THE OFFICIAL STAR WARS BAKING COOKBOOK: This officially licensed guide to the galaxy's best sweets and treats will be a delectable addition to your Star Wars collection.
About the Author
---
Celebrated for its unwavering dedication to quality, Insight Editions is a publisher of innovative books, journals, and collectibles that push the boundaries of creativity, design, and production. Through its acclaimed film, television, and gaming program, Insight strives to produce unique books and products that provide new ways to engage with fan-favorite characters and stories. Under the program, Insight has published books covering the worlds of Star Wars, Game of Thrones, The Walking Dead, Destiny, Assassin's Creed, Halo, Diablo, World of Warcraft, and the Harry Potter films, among many others. Insight's award-winning art, photography, and sports titles celebrate the artistry and legacy of a wide range of subjects that include John Lennon, Kurt Cobain, Johnny Cash, and The Rolling Stones.

By combining rich subject matter, striking visuals, and exclusive content with imaginative design and production, Insight Editions strives to create unique keepsakes that celebrate the best in pop culture and make one-of-a-kind gifts for fans of all ages.